Every 4 years this question comes up along with related debates about other sports where professionals compete at the Games. Professionals at the Olympics is nothing new of course but I think for purists the Olympic Games should be the pinnacle of each particular sport. In athletics or in the gym events for example an Olympic gold seems to be the ultimate aim with training schedules and competitive championships being chosen to hone the athletes' development to be ready for the assault on a gold medal.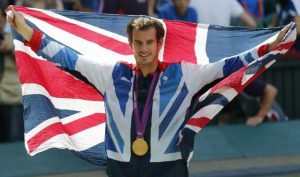 Tennis is different to many sports in that it's an 11 month season and ranking points are everything. They are more important than prize money to the top players although naturally the money comes with an improved ranking position. Maintaining a sufficiently high ranking ensures entry to tournaments without the need to risk elimination in the qualifying rounds.  If a player is to compete at the top level they have to run their career like a business. That means going where the ranking points are and also where their sponsor's logo can be given exposure.
Ranking points have been awarded in tennis from 2000 for the men and 2004 for the women but in Rio as well as there being no prize money the players get no ranking points. Many players have given this as one of the main reasons for not taking part in Rio. John Isner for example who is on the ATP player council has been pushing for increased ranking points at the Olympics after he was disappointed with his 135 points for reaching the quarter finals in London in 2012. He said that the lack of points this time made his decision to miss the Games much easier as playing in Rio would have meant he missed the tournament in Atlanta where he had won the title for the past 3 season.
Another player who was eligible to play in Rio but declined was Gulbis who is well known for being money motivated. Having a rich father has had a negative impact on his career. His lack of drive at times to earn a living rather than have things handed to him on a silver platter has seen him slide down the rankings. However he recently improved his ranking into the top 60 which made him eligible for Rio but he openly admitted  that he didn't like the lack of prize money and ranking points for the Olympic tournament.
To some players the Olympics are still special. Nadal missed London 2012 due to injury and anyone who saw his tears after his semi final victory with Marc Lopez in the doubles saw how much it meant to him. Both he and Murray are attempting to be the first player to win an Olympic Gold twice which is an extra prize in itself. Players who have been at the top of the game want to appear in the record books.  Even Fognini who can appear not to care at all in any tournament has fought so hard this week and took Murray to three sets in difficult conditions in their 3rd round match. He was 4-1 up in their third set before a poor line call badly affected his concentration
Then there are the players who felt they wanted to be a part of the whole Olympic experience. The opportunity to mix with athletes from so many different sports only comes around every 4 years and typically players only get the chance to experience it a couple of times However some didn't really want to experience it for a full week! Even Serena Williams who won gold in London looked disinterested in her loss to Svitolina, a player who she had beaten on all 4 of their previous meetings and who won just 2 games in their last meeting in Paris. There were "almost tears" from her after the straight sets loss but Serena fancies herself as a bit of an actress at the best of times.
Players like Tsonga, Muguruza and Radwanska might have been expected to do better than they did but generally the effort from those who took the decision to compete was evident. I am undecided on Djokovic. He lost to Del Potro in 2 tie break sets but didn't have a single break point.
My personal view is that tennis should be in the Olympics. The top players are among the fittest athletes on the planet and a sports tournament without tennis players is incomplete. The way the tennis tours are set up will always make the sports an awkward fit for the Olympics and this year's lack of ranking points has highlighted this more than ever. There are enough players who value appearing at the Olympics and they deserve the chance to experience it as much as any other top sportsman or woman.