Serena Williams v Azarenka
Williams leads the head to heads 13-3 but if we look at just this season it is Azarenka who leads 2-1. The 3 matches this season have all been finals. Azarenka won in Cincinnati and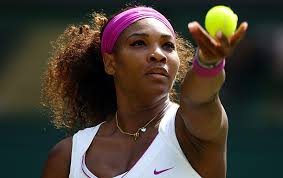 Doha, both on hard courts, and Williams won on the clay in Rome.
Williams is the hot favourite and starts at 1.28. She has cruised to the final without losing a set and with 5 bagels along the way. As I have said before the top players need to be tested before they reach the business end of tournaments. Williams goes into this final not having been put under pressure and not having to raise her level. Many thought that Li Na would make her work for the win but the Chinese player was totally unprepared mentally and didn't win a game in the first set.
Azarenka's serve has been weak at times. She has served 31 double faults at this tournament compared to 9 from Williams. She lost the opening sets against Cornet and Ivanovic. Her serve was slightly better against Hantuchova but her second serve in particular was awful in the semi final with Pennetta. The part of her game that has improved in the last couple of matches is her return of serve. She is perhaps the player most able to put pressure on the Williams serve.
Both these players have a champion's attitude and will raise their game for the big matches. Azarenka has had to fight a lot more to reach this stage and at least mentally is the better prepared of the two.. I think there is a fair chance that she will start slightly better. It doesn't take a genius to work out she will have spent a great deal of time over the last couple of days  retraining her muscle memory from the service line.
Williams is said to be disappointed with her season because she has only won a single Slam. That is how she measures success and perhaps she will put her self under so much pressure that she may come out quite nervous. She often talks about being nervous in big matches and important points.
I expect Azarenka to perform better than she has in previous rounds from the service line and she will take this to 3 sets. However it will be the American who lifts the trophy.
Update: Despite breaking in the opening game of the match Williams was very nervous in the early games. Azarenka broke straight back and it was clear that she was playing better than she had in some of her previous matches. As it looked like we were heading for a tie break Azarenka was broken while serving at 5-5 and Williams served out the set.
The second set seemed to be going just 1 way. Azarenka was again broken in the first game but this time there was no immediate break back. In fact Williams got a second break to lead 4-1. That's when the meltdown started. She served for the match at 5-4 but was broken. In the next game Williams broke again to set up a chance to serve out the match. She was broken again and we were in a tie break. Azarenka won it.
It was one way traffic in the third set.
Williams won 7-5, 6-7, 6-1.