21:30 – S Williams v Wozniacki  
After yesterday I wonder if there is any point looking at past performance.
Williams was super focused against Makarova. Most tipsters i saw were going for Makarova keeping it close but on that occasion I came up with a very accurate assessment. Williams was very aggressive and that added to the fact that Makarova was struggling with the occasion gave  a one sided match.
Wozniacki wasn't dominating against Peng and Peng really should have taken the opening set. She was twice a break ahead but couldn't hold serve after breaking.  Even in the second set when Peng was starting to suffer with cramp she was still being competitive. Just on that subject the organisers gave an official version of her condition as heat stroke. That is bullshit. She was suffering with cramp yet was allowed to get treatment which is against the rules. Players can not receive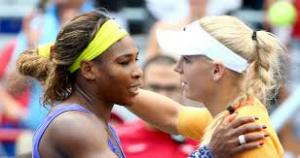 treatment for cramp but they had to explain away the fact that she was seen by the medic for an extended period off court. I am no doctor but if she was suffering with heat stroke no medic would have allowed her to continue. I have had heat stroke before and it never caused me to grab my leg and fall over.
Obviously this match is a big deal for both players but it means even more to each of them for differing reasons. Williams hasn't won a slam this season and was in danger of not qualifying for the year end finals. That isn't an issue now but she won't want to take any chances in this final and should come out firing as she did in the semi final.
Wozniacki has never won a slam. As I have said before Serena was one of the more vocal players when it came to the ranking system allowing a number 1 ranked player who had never won a major. In more recent times they have become close friends but to win her first against Serena in new York would surely make it extra special.
If Williams uses the same tactics for this match as she did in the semi final it will be over in straight sets but nerves will play a part for both players. They have played twice recently and each time it went to a deciding set.
Williams starts as strong favourite at 1.25. How the final goes will depend on who adapts quickest to the occasion and who can keep control of their nerves. Wozniacki seems to be enjoying her tennis a little more since she lost the pressure of being number 1. I hope she siezes the opportunity and makes it a great match.
Williams is too low at 1.25 and I will lay her below 1.20 and more if she goes below 1.15 early . If she can repeat the raw power from the Makarova match she can finish it in straight sets but a slow start from her would be most welcome and is a real possibility.