Troicki and Haase both lost matches on Tuesday that they really should have been able to control. I sispect Troicki was injured to some degree as the price movement towards the end of the first set would suggest he either called for the trainer or actually had an MTO. What was wrong with Haase isn't certain other than the fact that he's Dutch.
It would be easy to pick short priced favourites but where's the fun in that?
UPDATE ** There has been a large price move in Mayer's favour. Not sure of the reason but maybe a rumour of Ljubicic's fitness. Be careful with this one!
Ljubicic v Mayer:
Ljubicic leads the head to heads 2-0 but they haven't played since 2007.
Ljubicic reached the semi finals last year. He was expecting to play Isner on Tuesday but the American pulled out before the match and Gabashvili was the lucky loser. Despite being troubled by a back problem Ljubicic reached the final in Metz losing to Tsonga in 3 sets.
Mayer came back following a break after the US Open to win the claycourt tournament in Bucharest. He showed some excellent form during that week.  He came through his first round match here against Ramos in straight sets.
Ljubicic's serve is a massive weapon and last week he said it was working better than it had in a long time. Mayer has better return of serve stats and he will need to concentrate on attacking the second serve of  his opponent.
Ljubicic starts as slight favourite at 1.81 and I feel he has the edge on hard courts over the German. If his serve continues near its best then he will progress to the next round.
Update: Still not sure what caused the price move but Mayer started around 1.80 . Ljubicic served first and faced a break point. I figured it was worth a lay as if he was going to retire it would probably be in the first set. He wasn't broken and then went on to break Mayer in the next game!  In fact he won the set 6-0. Bizarrely Mayer took the second set quite easily. In the third set Ljubicic won an early break and held on to win.
Ljubicic won 6-0, 2-6, 6-3.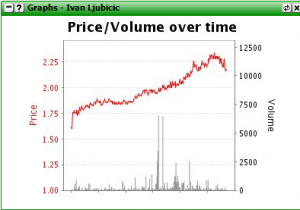 Bartoli v Petkovic:
Head to heads are 2-2 and they have won alternate meetings. Following that pattern its Bartoli's turn to win.
Petkovic is slight favourite at 1.89 but she had some problems against the human bottle opener, er sorry, Suarez Navarro. She was a double break down in their second set although she came back with the next 5 games to take the match.
Bartoli  lost the opening set in the first round against Benesova but despatched American McHale in straight sets.
Petkovic has won 6 of her last 7 matches and Bartoli 5 of her last 7 so we have two players in good form.
Serve stats are very similar although Petkovic saves more break points. Surprisingly the last 3 of their 4 matches were won in straight sets. Their two hard court matches both ended 6-4, 6-2 with each player winning a match.
Looking at their recent matches Petkovic has faced the tougher opposition and her only defeat in the last 7 matches was to Wozniacki. I feel she is playing at a slightly higher level than Frenchwoman Bartoli and so is my pick to move to the next round.
Update: What a match! In the first set either player could have taken it although Petkovic was making too many unforced errors. Bartoli won the set. In the second set Bartoli won an early break and it looked like it was all over. However Petkovic found some inspiration from somewhere and fought back to level the match.
In the third set Petkovic was running away with it and led 5-1. Bartoli looked knackered but was able to get back both breaks and levelled the set at 5-5. Petkovic held for 6-5 and we were on our way to a tie break but Bartoli wasn't able to hold.
Petkovic won 6-4, 4-6, 7-5.