The two WTA matches are covered for Shark Tips and I try not to duplicate picks on the blog unless it's a semi final or final.
ATP, 14:00 – Djokovic leads the head to heads with Cilic 9-0 although they have never played on grass. Grass is probably Cilic's best chance of beating him. He has taken sets from Djokovic before including at their two grand slam matches. The latest was at the French Open this year. Their other 2014 match also saw Cilic take a set.
Simon and Tsonga weren't able to take a set from Djokovic but on this surface Cilic should return better than both those players. the problem is that he won't be able to maintain the standard required to actually beat Djokovic.
Two of the three sets that Cilic has taken from Djokovic were tie breaks and that would seem to be his best chance today.
ATP, 14:00 – Murray faces his biggest test so far today. The last time he played Dimitrov he lost in 3 sets.
Murray leads the head to heads 3-1. This is their first meeting on grass. He has won 29 of his lat 31 matches on grass.
Dimitrov's game is maturing and he won the title in Eastbourne. If Murray is below his best today then Dimitrov has the ability to take advantage. He will certainly serve well and i don't expect Murray to have a lot of chances to break him.
The support that Murray gets at Wimbledon now gives him a massive boost and they can carry him through any poor periods in matches.
I don't think this will be straight sets but in the last 3 seasons Dimitrov has won just 2 of his last 20 when priced above 3.00
ATP, 16:30 – Is Kyrgios the new Rosol? He will hope not . Both have beaten Nadal at Wimbledon but whilst Rosol has done ok since that win he hasn't exactly set the tennis world alight. There will also be comparisons between Kyrgios and Tomic as young Aussies. Both have an arrogant air about them but somehow Kyrgios doesn't irritate in the same way Tomic does. (what are those bloody jackets about, Bernard??)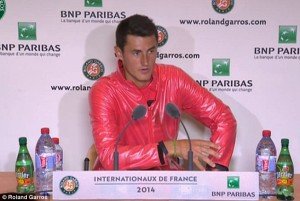 Kyrgios' game is perfect for grass and it remains to be seen whether his game will develop on other surfaces but right now he is proving tough to beat.
Raonic was broken in his first game against Nishikori and he holds serve around 90% of the time he was clearly rattled. he started to come more into the match as the set wore on but didn't get the break. The second set onwards was a very different story as he raced into a 3-0 lead in set 2. Nishikori was struggling a little with blisters and wasn't as keen to enter into the long rallies that he had been winning in set 1.
Raonic's confidence was growing and that makes him serve that bit better. Nishikori got very few chances against the Canadian's serve after that.
Raonic's return stats are slightly better than Kyrgios' and in a serve dominated match that could make a difference. The Aussie 19 year old was fearless against Nadal.
Tie breaks are bound to be a factor. Both have a 57% win record in breakers in the last 3 months (on the main tour) although Raonic has played twice as many.
We don't know how Kyrgios will react to his win over Nadal and I suspect we will learn a lot about him in this match.
I think it's worth laying Raonic at the start as this can go either way.
ATP, 16:30 – I had said in my post on the Wimbledon draws that an all Swiss quarter final was a possibility. It was likely that Federer would get this far as he has had an easy draw but I thought Wawrinka would have struggled with Isner/Lopez. As it turned out Lopez finally ran out of energy and couldn't even find aces to keep himself in the match.
Wawrinka's improvement on the grass this season is no surprise. People have been quick to dismiss him as a contender due to his poor record on the surface but with so few grass matches each year it was to be expected that the work that he and coach Norman have put into improving all aspects of his game would take a little longer to show results on the grass.
He serves big which is ideal but his movement isn't quite what it should be.
This is Federer's toughest match by a long way in this tournament. He has been able to cruise through previous rounds. That may not help him although I have no doubt he would like to show he is still the Swiss number 1 on grass.
Federer starts at 1.33 which is way too low and I'll be laying that. Stan's form since winning the Australian Open hasn't been spectacular and he has lost some matches that he really shouldn't have. Surely he is up for this one though and 4 or 5 sets looks likely.
I think we will see Federer trading a lot higher than 1.33. I have to give the slightest of edges to him though.