Andy Murray comes into the tournament in excellent shape. He is possibly in the best form of his career.  The draw has worked out as well as he could have hoped for. He doesn't have to think about Djokovic until the final. There's a lot of tennis to play before we get to the last Sunday though.
As usual not too many players have a realistic chance of winning the title and we have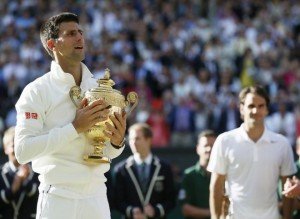 Djokovic as the favourite to defend his title.
Section 1:
Djokovic won't see too many names in his section that give cause for concern. Nishikori is an obvious one but who else can really trouble him over 5 sets? He has a few big servers who can be a handful on grass. Anderson, Leo Mayer, Isner, Tomic, Janowicz, Cilic and even Zverev call all send down bombs with monotonous regularity. Big serves alone won't be enough.
Nishikori will need to deal with Isner or Cilic. Djokovic is likely to meet Tomic and Anderson and in the best of 5 format I don't see either one being able to take him down.
Nishikori's biggest threat is probably Isner in the 4th round. If Isner can't get past Cilic in the third round he was never going to trouble the Japanese player.
Predicted quarter final: Djokovic v Nishikori
Section 2:
This section is more competitive. We have several strong grass courters.
Wawrinka reached the quarter finals last year. After his Australian Open win Stan's form dipped for a while.How will he react to his French Open win? In theory he should have a better understanding of what to expect both in his own head and also from the outside world whether it is media expectation or crowd expectation in every match.
Verdasco can be a tough opponent if he gets things right. He could struggle with Thiem in the second round. Thiem is a little late in getting to grips with grass but his more recent matches have shown more promise.
I'm still not convinced that all is well with Robredo and I expect him to struggle against Goffin if they both make it through their first 2 rounds.
Dimitrov will need to improve on his recent form if he is to defend semi final points from last year. He lost ranking points at Queens Club where he was defending champion yet lost in the third round this time. Gasquet will give him a stern test in the third round.
Raonic will expect to get past Tommy Haas in the second round. Haas is continuing his comeback from injury. Kyrgios is the most likely opponent waiting for Raonic in the third round. That can go either way. The winner of that one will probably meet Wawrinka in the quarter finals
Predicted quarter final: Wawrinka v Kyrgios
Section 3:
A very busy section. Murray, Nadal and Ferrer are the top name with a supporting cast of Tsonga, Fognini and Troicki. Karlovic is never an easy opponent on grass either.
I'm sure the tournament organisers would like to see a Murray v Nadal quarter final. Murray really shouldn't struggle before the 4th round. His likely opponent will be Karlovic or Tsonga. I would favour Tsonga to knock out Karlovic but it won't be easy.
Nadal has a couple of banana skins to avoid. Dustin Brown has beaten him on grass and whilst he beat Troicki  in his last match there was just 1 break of serve from 2 break points.
Ferrer could have problems with Fognini if the Italian decides it might be a good idea to actually try to win. Ferrer and Nadal should meet in the 4th round.
There's a very good chance that the organisers get their desired quarter final.
Predicted quarter final: Nadal v Murray
Section 4:
Federer and Berdych head up this section.
Federer is surrounded by big servers. Querrey, Sock and Lopez could all face the world number 2. Of those maybe Sock is better equipped to mount a serious challenge.
Berdych won't have things easy at all. Rosol, Monfils and Simon could all end his tournament. Berdych lost in the third round last year.
With so many serve dominated matches in this section many of the early rounds' matches could go either way.
Federer seems as certain as anyone (other than Djokovic) to reach the quarter finals. Berdych ought to take the other place but Monfils could find some inspiration from somewhere.
Predicted quarter final: Berdych v Federer