14:00 – Djokovic v Federer
Their previous meetings have delivered 20 wins for each man. There was also a walkover for Djokovic. A little surprisingly is that in those 40 matches there have only been two matches on grass. In last year's Wimbledon final it was Djokovic who won 6-4 in the 5th set. Their other encounter on the turf was in the semi final in 2012. Federer won that day in 4 sets.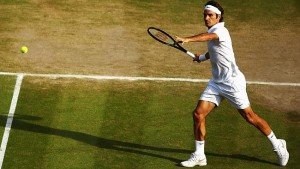 Before the tournament I was looking at a Djokovic v Murray final. Djokovic was the easy prediction but looking at Murray's form before Wimbledon I felt he was in the best form of his career. Home advantage on top of that gave me the feeling that it could be his year. Obviously Federer was expected to perform strongly as he always does at Wimbledon but I hadn't expected him to hit and maintain quite the level that he has done.
Federer has been broken just once in these last 2 weeks. That in itself is a remarkable achievement but in 3 of his matches he didn't even give them a single break point. Murray and Simon managed just one with Simon being the only opponent to convert. Sam Querrey actually had 2 break points.
Murray started his semi final with Federer with a  clear game plan. He was going to add some mph to his serve and was going to play super aggressive tennis. No complaints from me there. I have always said that he plays his best tennis when he is aggressive. In the early games Fed weathered the storm. You felt Murray had to get his nose in front because he could only "red-line" his game for so long. By the time Federer settled into his serving groove Murray's errors were increasing. Federer was taking the ball incredibly early which is a sure sign that his confidence is high. Murray actually didn't play badly at all. Just 17 UE's, 70%  of 1st serve points won. 1 double fault. He saved 7 of the 10 break points faced. Hardly the stats of a player who didn't compete. Federer was just too good on the day.
Gasquet went into his semi final with Djokovic making comments about how much better the other semi finalists were compared to him. Not unusual at all for players to play down their chances pre match but you got the feeling he meant it!  On the day he was more competitive than expected. He hit fewer UE's than Djokovic but only managed to take 1 of his 4 break chances. Djokovic won 45% of his 2nd serve points.
Anderson had given Djokovic a few scares in their 4th round meeting. The big South African took the first two sets in tie breaks before Djokovic stepped up his intensity. Their match was suspended for bad light and when they played the 5th set the following afternoon it was a close 7-5 win for the Serb.
Those two sets were the only ones Djokovic has dropped. He has only been broken 5 times himself which is excellent but he has faced 25 break points compared to Federer's 4.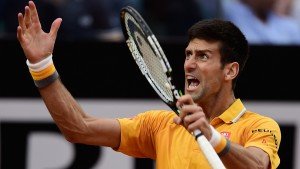 Other comparisons?  In their semi finals both hit a fastest serve of 202 km/h. Their average 1st serve speed was also tied at 189 km/h. The average 2nd serve speed for Djokovic was 151 km/h to Federer's 160 km/h. Federer also won 54% of his 2nd serve points against one of the strongest returners in the game.
If Djokovic plays the way he did in his semi final then Federer is a clear favourite. In reality he is unlikely NOT to raise his game. He is a great competitor and is trying to defend his Wimbledon title. That is something no one has managed since Federer did it in 2008. Federer won it in 5 consecutive years, a feat only equalled by Borg in the modern era. Will we see some "bambi" tactics from Djokovic if things aren't going well. I won't be at all surprised. He has feigned dizziness, lack of balance and problems with his eyes in the past to try to distract his opponents.  You will never see Federer using such tactics
Federer described his win over Murray as the best match of his life. Can he maintain or improve on that today? You would expect Djokovic to find a way to put him under more pressure than Murray did but I have to go with Fed to lift the trophy.
The crowd will also be with Federer. At times he was getting more support than Murray in the semi final. Djokovic gets irritated when the crowd is cheering mainly for his opponent. He tries to use it to motivate him but it doesn't always work for him.
There is also a good chance that there will be rain during the final. A closed roof, if anything, favours Federer in my opinion but I'd expect both players to adapt well to a change in conditions. It won't affect the match too much.
Either way it should be a cracker!