Kvitova will try to defend her title. It is highly unlikely that Bouchard will defend her final points from 2014.
We are due to have some very hot weather during the 1st week so it will be interesting to see who copes with that the best.
Section 1:
Serena Williams could have a tricky tournament. She lost in the third round last season. Not many people expected Cornet to beat her. She doesn't have the easiest of draws this year Cibulkova is the sort of player who can get inspiration from nowhere. If Cibs can build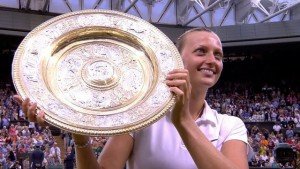 on her promising return after injury then there's a chance she can give Serena a scare.
If Serena gets past the potential banana skins then its possible she plays sister Venus in the 4th round. Venus shouldn't have a problem with Erakovic, assuming she is healthy. A third round meeting with either Errani or Vinci won't worry Venus.
The other half of this section has Azarenka and Ivanovic. It's a pretty busy part of the draw as we also have Mladenovic who is having an amazing season and Pironkova who comes alive on grass.
Azarenka doesn't seem totally healthy. Ivanovic hasn't had the best season so far but improved at the French Open and reached the semi finals. She lost her only grass match of the season to Larcher de Brito. Either of both of Mladenovic and Pironkova can spoil the party but I'd expect Azarenka and Ivanovic to meet in the 4th round.
Predicted quarter final: Serena Williams v Azarenka
Section 2:
There is plenty of class in this section. Sharapova hasn't played on grass yet this season. She reached the 4th round last year losing to Kerber in 3 sets. If she is to equal or better that finish this year she may have to get past Gavrilova in the third round.  A 4th round meeting with either Petkovic or Pennetta wouldn't be a walk in the park for Sharapova. You'd expect Petkovic to be in that 4th round match but she will need to improve her serving performance from her last match. She and Wozniacki had 9 breaks of serve in 12 games.
The other half of the section is packed! Stosur, Stephens, Pliskova and Safarova will all fancy their chances of making the quarter finals. Stosur is perhaps the least likely to get there but if everything falls into place for her she can be dangerous. Stephens was impressive for most of last week but her attitude against Radwanska was in stark contrast to her other matches.
Safarova showed she can play the big matches during her run to the French Open final. Pliskova has a decent game for grass though her movement will let down eventually.
I think Pliskova will out hit Stosur and Safarova will have too much for Stephens. Despite her poor movement I have a feeling she will beat Safarova.
Predicted quarter final: Sharapova v Pliskova
Section 3:
We're not exactly short of quality in this section either!
Wozniacki retired from her semi final in Eastbourne. Was that mainly precautionary? Giorgi could give her a real test in the third round.
Muguruza and Kerber really should both make it to the third round. Lucic Baroni could give Muguruza a tough match but Kerber will have to put in a poor performance to lose to out of form Barthel.
The lower part of the section is headed by Halep. She hasn't been at her best in recent months and at times has had real issues on serve.  She reached the semi finals last year but it doesn't feel like she will get near that this time.
If Halep makes it past Puig then Kuznetsova could be waiting in the third round.
Lisicki and Bacsinszy would be a third round match worth watching with Lisicki's love of grass giving her the edge. If Lisicki and Halep meet in the 4th round my money's on Lisicki.
Predicted quarter final: Kerber v Lisicki
Section 4:
This is the weakest section in my opinion.  Of course it does have the defending champion Kvitova.  Last year's runner up is also there though Bouchard's presence is  unlikely to enhance the tournament.
Konjuh has been playing well on the grass and won her first tournament recently. Her draw is by no means easy with Makarova and Rybarikova standing between her and the second week. If Konjuh does make the 4th round the winner of Keys v Bouchard is her likely opponent. Neither of those two has been at their best lately.
The bottom half of the section is likely to be led by Radwanska and Kvitova. Radwanska has shown great form in Eastbourne although she isn't playing consistently well in her final with Bencic as I write this.
Predicted quarter final: Konjuh v Radwanska