Vandeweghe leads their previous meetings 2-1. Their most recent match was in August 2016 on a hard court in Cincinnati. Muguruza won in straight sets. Vandeweghe's 2 wins were on grass.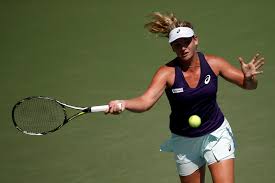 Stats this year don't really favour either player. They are quite closely matched. Vandeweghe has beaten better opponents including defending champ and world number 1 Kerber. Only Bouchard took a set from her. I will be very surprised if she does not take at least a set as long as she can maintain her level of play. She has been very aggressive so far and there is a fine line between hitting the line and hitting the ball kids.
Muguruza's mind can wander mid match. Whilst she has not lost a set so far she had a couple of tough matches to start the week.
This should be a great match. Value is on Vandeweghe. Lay Muguruza if she breaks first. Three sets seem likely.