Suarez Navarro leads their previous matches 2-1. They last met in the semi final in Oeiras in a semi final on clay. That was in April 2014 and she won in straight sets. Begu won on clay in 2011 in 2 sets.
Suarez Navarro has better results on clay this year. She has not lost a set so far this week. She has been pretty solid on serve and has been broken 4 times in 3 matches.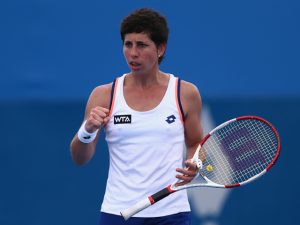 Begu has also won all her matches in 2 sets. She has also been strong on serve and has had her serve broken 5 times in her 3 matches.
Their stats this week have been very close though Suarez Navarro has been slightly better in each category. There is a chance of 3 sets. Begu is playing at home and has raised her level this week.
Back Suarez Navarro if she gets broken. She starts around 1.40.