Halep 1.54, Garcia 2.80
Halep leads their previous matches 2-1. They last met in the final in Beijing a couple of weeks ago. Garcia won that in straight sets on a hard court.  All their previous matches were on hard courts.
Overall results are better for Halep this year though recent results favour Garcia and she has a higher ROI.
Garcia won consecutive titles in Wuhan and Beijing to secure her place at the year end finals. If she can continue her strong form then she will take at least a set. Having a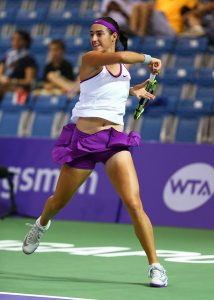 2week break since her last match could break her momentum and she will be nervous as its her first time at the year end finals.  She has not played indoors this season but has a good record when playing under a roof. She reached the final of a WTA Challenger indoors last November.
Halep has been in the year end finals for the last 2 seasons but each time only won 1 of her round robin matches. Even though she has had a good season she has struggled with injury and that had badly affected her consistency at times. She has had really poor performances recently against Muguruza in the final in Cincinnati and against Svitolina in the semis in Toronto. She bombed out weakly in her first match in Wuhan to Kasatkina in the week before making the final in Beijing.
Value is on Garcia at the start. Lay Halep if she breaks first. Garcia will get chances to break her but her own serve will come under a lot of pressure.  All the weight of expectation is on Halep here
Update: Halep won 6-4, 6-2. Tight first set. Garcia started well but it was Halep who broke first. Garcia broke back immediately for a nice trade and then held her serve. She was overpowered in the second set.