Their head to heads are 1-1. Their last meeting was in August 2014 in Cincinnati. Goerges won in 3 sets on a hard court. Tomljanovic won her match in Miami in 2013 in straight sets.
Tomljanovic came back from surgery last week. She had not played since January 2016 but beat Bouchard in Acapulco. She then retired in her next match.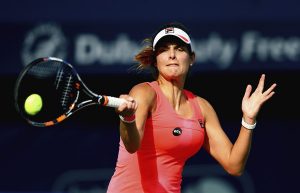 She is clearly not totally recovered.
Goerges has been in strong form this year and I favour her to win. She reached the semi finals in Budapest and managed to win in the first round in Acapulco but she ran out of energy in the next round and retired.
I do expect Tomljanovic to be competitive in the first set. Back Goerges if she gets broken early. Goerges starts around 1.40.