Head to heads are 1-1. Their most recent meeting was in  January 2016.  That was in Brisbane on a hard court and Lepchenko won in straight sets.
Schmiedlova has had just 2 decent weeks in 2017 and both were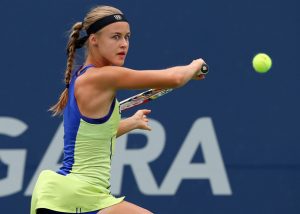 indoors ITF events. Lepchenko's only good week of 2017 was also in an indoor ITF event. On outdoor hard courts Lepchenko has won 3 of her last 10 and Schmiedlova 2 of 10.
Nothing between them on outdoor courts. Initial value is on Schmiedlova. I will be laying Lepchenko around 1.40 but if Schmiedlova gets into a winning position I will take the green as I don't trust either to close out a set or the match.
Lepchenko starts around 1.54.