Kuznetsova has won both their previous matches. Their last meeting was in May this year in Rome. She won in 3 sets on clay.
Kuznetsova looked to be running away with her semi final with Svitolina losing just 1 game in the opening set. Towards the end of set 2 she was starting to look pretty tired but she came back from a long bathroom break and broke at the start of set 3 and held on to that break for the match. That's 2 tough 3 setters in a row for her.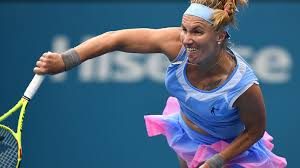 Gavrilova came through in straight sets against Goerges who was not able to maintain her level of play from previous rounds. She has had a strong week with an easy win over a poor Safarova in round 1. Suarez Navarro started well against her but was pegged back late in the 1st set. She retired early in the second set. Then Gavrilova beat last year's finalist Pavlyuchenkova in 3 tight sets.
I expect to see Kuznetsova tiring again in this one but she loves this tournament. It looks like another 3 set match. Value is on Gavrilova. My gut feeling is that Kuznetsova sneaks another tight match.