Gibbs leads their previous meetings 2-1. Their most recent match was in  June 2015 on the grass in Birmingham. Gibbs won in 3 sets. She also won on grass at Wimbledon the previous summer.  Witthoeft's win was on clay in an ITF tournament in France in 2015.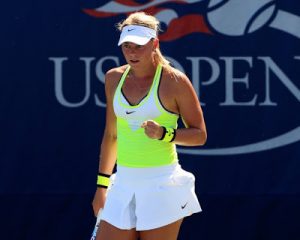 Anything can happen here!  Over all stats favour Witthoeft in 2017 but if you look at results in hard courts both have struggled.
Gibbs reached the third round last year where she lost to Muguruza.  Witthoeft lost in the second round in 3 sets to Kuznetsova.
Slight edge to Witthoeft unless the crowd can lift Gibbs.
Expect a few breaks of serve. Lay whoever breaks first and remove liability if the other player breaks back. Three sets likely.