Due to start at 3:30 am
Barty 1.52, Mertens 2.88
This will be the first time they have played.
Overall results slightly favour Barty  in the last 12 months. She also leads on hard courts 71% v 62% matches won.
Barty beat Halep in straight sets in the last round. It was Halep's first match of the season. Halep put her under a lot of pressure and had 11 break chances but could only convert 2 of them.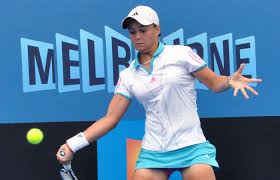 Mertens played  2 matches yesterday to catch up from rain delays earlier in the week.  That wont have helped her energy levels so early in the season when match fitness can be an issue.
Back Barty at 1.75. the home crowd should give a boost if she needs it.
Update: Barty was broken in the third game of the first set but immediately broke back. She went on to take the set.  In set two Barty broke first but it was her turn to be broken straight back. Another two breaks of serve were enough to give her the match.  
6-3, 6-3.