Wang 1.93,  Nara 2.06
Head to heads are 2-2. The last time they played was in Kaohsiung on a hard court in February last year. Nara won in straight sets. All their matches were on hard courts.
Wang has better overall results this year. Her hard court results are also a lot stronger. She has won 64% of her hard court matches this season. In the first round she beat Hsieh in straight sets.  Her serve wasn't amazing and she was broken 4 times.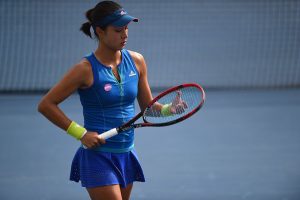 Nara reached the quarter finals last year. She had a comfortable win in the last round as underdog. She made the third round at the US Open where she lost out to Safarova in 2 sets. She has won 45% of her hard court matches this year.
Tough to pick a winner here. Stats for the season favour Wang but Nara is a better player than she has shown this year. I give the edge to Wang. Back her above 2.30.
Update: Wang won in 2 sets