Wickmayer 1.77 , Kanepi 2.28
Head to heads results are 3-3. Thwey last met in Brussels in May 2011. Wickmayer won in 3 sets on clay.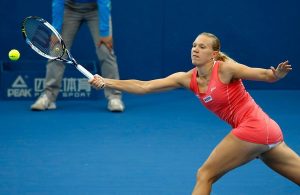 On hard courts Kanepi leads 3-1. She  has not played much tennis this year due to injury but she has won 10 of her 12 matches. She has come through the qualifying rounds. She didn't win a game in the opening set against Schiavone in the main draw but won in 3 sets.
Wickmayer had an easy win over Tsurenko in the first round. Tsurenko had a nightmare of a match and was broken 5 times. Wickmayer hasn't has much success recently. The last time she won back to back matches was in an ITF tournament in May. On the mian WTA tour her last back to back wins was In February on indoor courts in Budapest.
Some value on Kanepi to take at least a set. Lay Wickmayer if she breaks first and remove or reduce liability if she then gets broken. Good chance of 3 sets and I give Kanepi the edge.
Update: Kanepi won in 2 sets.