V. Williams 1.65, Stephens 2.50
Sloane Stephens 2-0 has come out on top in both their previous matches though one was due to withdrawal from the Miami tournament in 2013. Their completed match was in May 2015 on clay at the French Open. She won in straight sets.
They have very similar results this year although obviously Venus has played a lot more matches. They have both won around 76% of matches. On hard courts Stephens has a slight edge in the stats and ROI.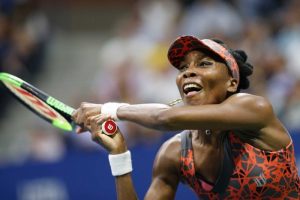 Venus has dropped 3 sets so far. She made a slow start to the tournament and lost the second set to Viktoria Kuzmova. Dodin and Sakkari kept the sets close but were despatched in straight sets. In the fourth round Suarez Navarro managed to break the Williams serve 4 times and pushed her to 3 sets but it was Venus who ran away with the deciding set.  In the quarter final Venus again lost the second set. This time Kvitova did not roll over as Suarez Navarro had done and Venus took the set and the match in a third set tie break.
Stephens has also been vulnerable in second sets. She, like Venus, has lost 3 sets and all the losses were also in second sets. She has had the tougher draw. Vinci has a good recent record at the US Open and might have been expected to give her more problems than she did. Their opening set was tight  with Stephens taking it 7-5 but their second set was very one sided. Cibulkova made her work hard in the second round and Stephens came through in 3 sets. Her third round opponent was in form Aussie
Ashleigh Barty but Stephens was fairly comfortable and won in 2 sets. Goerges in the fourth round managed to break her just once but that was enough to give her the second set but it was Sevastova who put her under the most pressure. The Latvian was one of the surprises of the tournament and came through the fourth round by beating Sharapova in 3 sets. Stephens came through a difficult match in a third set tie break.
Stephens has played just 1 slam semi final before. That was in Australia in 2013. She lost to Azarenka though she had just beaten Serena in the semi finals which can drain a player mentally as well as physically.  Venus has a lot more experience of this stage of major events. Stats for the tournament slightly favour Stephens.
Value is on Stephens to take at least a set and I give her the edge to reach the final.
Update: Stephens won 6-1, 0-6, 7-5.