Kuznetsova leads their previous matches 6-1. They last met in Miami last year. Kuznetsova won in 3 sets on a hard court.  Makarova's win was on grass in 2010.
Better results this year for Kuznetsova. She has won 70% of her matches. She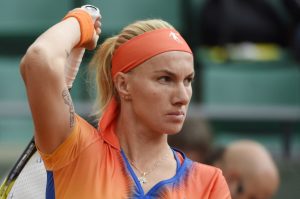 reached the 4th round at the French Open and last week made the quarter finals in Eastbourne.
Makarova has been very inconsistent winning 50% of matches in 2017. Since reaching the 4th round in Melbourne she has not managed to string 2 wins together very often.  In fact just twice in Dubai and Rome.
On grass they are quite even. Easy wins for both in the last round. They both reached the 4th round last year. If Makarova serves at her best she should win this but that serve hasn't always been reliable this season.
I favour Kuznetsova to win if this turns into a scrap. Back her if she gets broken or loses set 1. Neither player has a good record when they lose set 1 though over their last 50 matches Makarova is much worse.