Serena has won all 4 of their previous meetings in straight sets. They haven't played since September 2013.
So Serena is 2 matches away from her 22nd Grand Slam. The nerves got to her in Melbourne and also in Paris but didn't really affect her until the finals. She will come into this match feeling she had one foot in the final.
Predicting the scores of her matches is never easy.The 2-0 bit is often safe but so often when sets are expected to be close she batters her opponents and also if we expect her to totally dominate she wins 7-5, 6-3 or similar.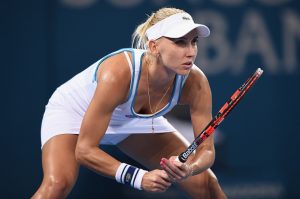 Vesnina is in her first grad slam semi final. That will make her nervous enough but the fact she is playing the world number 1 won't help.  I doubt anyone who gets into their first major semi final is happy just to get there. They want to get to the final. I think she will have been dreaming of reaching Saturday's match and her coaching staff will have mentioned Serena's nerves but as soon as the booming forehands start flying past her ears the hopes can disappear fast.
Vesnina's best match of the tournament was perhaps her 4th round win over Makarova who had been in excellent form. Cibulkova in the quarter final was either distracted by wedding plans or perhaps she just ran out of energy after a very draining 3 sets win over Radwanska in the previous match.
I think Vesnina can keep one of the sets tight. For her to have any chance of winning she must take the opening set. I think she will fall short but Pavlyuchenkova managed to keep both sets close.
Serena in 2 sets seems the obvious result but a lot of matches have not been obvious this year. It is worth a cheapish lay on Serena at the start.