This is their first meeting.
Slightly better results for Watson this year. She has won 8 of her 12 matches in 2017. All 8 of her wins were on grass. She reached the semi finals last week in Eastbourne. Many of the top players didn't handle the rain delays well or didn't like the idea of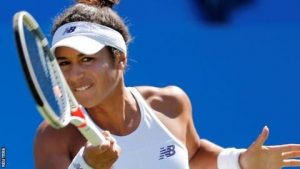 playing more than 1 match in a day the week before Wimbledon.
Zanevska only has main draw wins in ITF tournaments this year. She reached the quarter finals in Ilkley 2 weeks ago on grass.
If Watson can continue her form from last week she wins this in straight sets.
No value at the start though. Back Watson if she gets broken