Previews, predictions and trading tips for every main tour match.
Tennis Tips for Tennis Traders
Improve your tennis trading results with trading notes from a Pro Tennis Trader
Would having someone research every main tour match for you make your trading session easier?
I DO JUST THAT!. I also give my own advice for the matches, my own prices and send it all to your email inbox every day.
Note: If there aren't enough main tour matches then I also cover Challenger tournaments.
I now give a confidence rating on each match from 1 to 10.
"The Trading Tips Email has paid for itself many times over. I don't know how you do it. Worth every penny." – Joseph, Cardiff.
It's not just about the stats!
Anyone can check the statistics of the players for any match but stats only paint part of the picture. I have many years of experience of the players and how they are most likely to react in play.
.
Each day I create a document while I am researching the matches. I use it as a memory prompt during the trading session. It includes head to heads, recent form and any relevant stats and facts that will be useful during the match.
"Paul really knows tennis. His service has improved my results. I feel like I am finally getting somewhere with my trading!" – Chad, Wakefield
Tennis trading doesn't have to be complicated. After several years of trading the markets I have come up with my "bread and butter" trades.
I get asked so often, "when should I get out of a trade to limit my losses?". In fact that is the wrong way to think about it. The most effective way to limit your losses is to ensure you get a value ENTRY price.
This is one of the main aims of the Trading Tips email. For example I might advise you to back a player when they get broken or to wait until the other player holds after a break of serve. I may advise to wait for the second set to lay the set winner.
When our player recovers and gets back level we can either green up or remove the liability on the other player leaving us a free bet.
If they do not make a come back then we take the loss but because we took a value entry the loss is reduced.
Occasionally the favourite will be value at the start ( not often). Back at the start and remove liability after they break serve.
Sometimes I feel the underdog has a real chance to take the lead or even the match. Lay the favourite slightly below their start price and green up/remove liability when the underdog breaks or takes the first set.
So you see, the tactics are NOT complicated. You just need to know which entry to take on each match. That's what you get from my trading emails!
So what's included?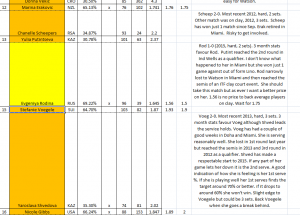 The matches are listed in the order they will be played.
The screen shot shows a sample of one of the advice documents. The headings are:
OC predict – It is the prediction of a player's chance of winning based on my unique settings in the Oncourt stats software
WaS – indicates the Wins a Set selection
Rank – player's overall ranking
S Rank – player's ranking on the specific surface
Pin – price on Pinnacle at the time of download. This is just for reference
BF – Betfair price at the time I did the advice document
TS – What I would price the player at based on my pricing model
Comments – Stats, info and advice on trading the match
Confidence level – How confident I am that what I think will happen WILL happen
Winner – Even though it is trading advice, it can be useful to know who I expect to win the match.
I will make every reasonable effort to get the tips email sent out before the first match of the tournament. If there are multiple tournaments on I would rather send all tournaments tips out at the same time but this isn't always possible depending what time zone they are in. You will always get the tips and advice on a match at least 30 minutes before it starts.
I produce a tips email EVERY day but if circumstances don't allow it I reserve the right not to provide one on any day.
Even during the Grand Slams I include every main draw match! Some days that is over 60 matches
Subscribers will receive an email with a download link each day. I also have a back up to the email. If you haven't received the email for some reason, I provide a subscribers' page which will have the download links.

Trading Tips subscribers get access to the TradeShark Live Streamed Trades. Watch me trade a match live. I provide full commentary and insight.
Results
Providing results for the Trading Tips is a little tricky. The aim of the emails is to give a value entry point and then the subscriber manages the trade. I give advice on how to manage the trades but it means everyone's results will be different.
Another problem is that I give advice each day for EVERY main tour match but no one can trade every match every day. So a subscriber's results will depend on which matches they trade, If, for example, they choose 5 matches that I get right they think I am a genius. If the choose 2 that I get right and 3 I get wrong they think I am a joker.
A TradeShark Tennis member and Trading Tips email subscriber has gone through all the advice given in 2019 and has put together some results. Thanks to Filipe for the work he put into this. It was no small task!
The entry point given in the Trading Tips email is used. If we get a break of serve in our favour the trade is hedged for profit.
If there is a break of serve against us the trade is hedged as a loss.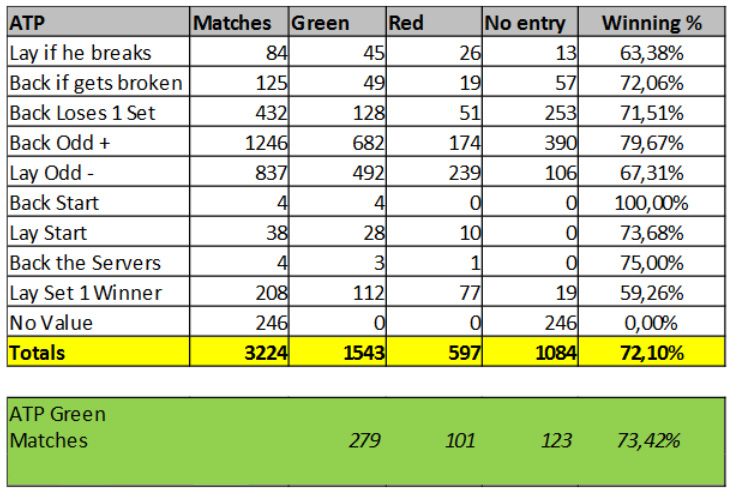 As I said above no one can trade every match every day but this gives an idea of the strike rate of the service.
"I have paid for a lot of services but this Trading Tips Email is by far the best. I can't recommend it highly enough." – Andrew, Wigan
The Daily Trading Tips Email is just £20 per month
_______________________________________________________
For 7 days' access to the Trading Advice Email use the payment button below. This is not a recurring subscription payment
Save £50 by signing up for a whole season!
Visit the yearly payment page>>>
**Please note: Unsubscribing by clicking a link in an email does not cancel the Paypal subscription. It just stops the emails being sent to you. The Paypal subscription needs to be cancelled in your Paypal account, though I can do that for you if you wish.