TradeShark Betfair Tennis Trading. Make Money Trading Tennis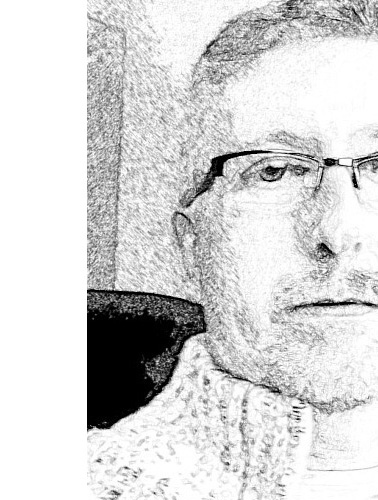 Paul Shires (a.k.a. TradeShark)
Hi, I'm Paul Shires. I make my living trading the Betfair tennis markets.
I found Betfair trading in 2008 and quickly came up with ways to make money on the tennis markets. I learned quickly despite having to use trial and error and in June 2010 I left my job and now trade on Betfair for a living.
If you're new to trading I can teach you all you need to know to get started.
If you have some experience I can improve your results.

Low risk tennis trading strategies.
What is Betfair Tennis Trading and how will this site help you to make money trading tennis?
Betfair is a betting exchange, similar to a bookmaker. The big difference is that as well as backing a player to win you can lay a player to lose. By using backs and lays during a match we can get a profit on both players. Then we don't care who wins and we move on to the next match!
My Tennis Trading Course will teach you how to do this so you can make consistent daily profit. On this site you will find free trading tips and advice
---
---
Daily Trading Blog
The trading blog has been running since 2008 and is still going strong.
On the blog pages you will find FREE daily match picks and trading advice.
There are also predictions the current round of matches at some of this week's tournaments.
I also write a diary which appears on the blog page.


Daily Tennis Trading Tips
Info and trading advice for ALL main tour matches. 7 days a week.
Did you ever wish that someone would research all the day's tennis matches for you?
I DO JUST THAT!
The service will improve your results.
Tips are emailed to you


Tennis Trading Course
Award winning service.
Step by step trading guide.
Ideal for beginners.
Everything you need to know to get started in tennis trading.
Low risk tennis trading strategies
Lifetime support from a Pro trader.
5 Tennis Trading Tips for Beginners
Use small stakes while you're learning.
Don't enter a match at the start. Wait for a better price in play.
Avoid deciding sets until you're more experienced.
Don't be in a hurry to increase stake size after a few good results. When you do decide to increase stakes do it SLOWLY.
If you are ill, angry, upset or tired. DO NOT TRADE. You will make bad decisions. Take a break.
What do we look for when trading tennis?
Big question! However the more you trade tennis matches the more you see that it doesn't need to be complicated. Of course people will try to tell you the opposite. You can get overwhelmed by theories
and statistics and opinions from other people.
In order to make a profit we need to correctly predict the direction that the price of a player will move in.
Daily match picks
Alison Riske 1.88, Ons Jabeur 2.12 Due to start around 11:30 am Riske won their only previous meeting. That was in March 2018 on a hard court in Miami. She won in straight sets which included a …
Diary
It has been a tough week. I'm in profit but haven't broken any records. Some one said to me today that as I have a good record I am allowed a bad week. I actually don't think I have had a really bad w…
YouTube Channel
Lots of tennis trading videos.
Grand Slam previews.
Question and answer videos.
Please subscribe!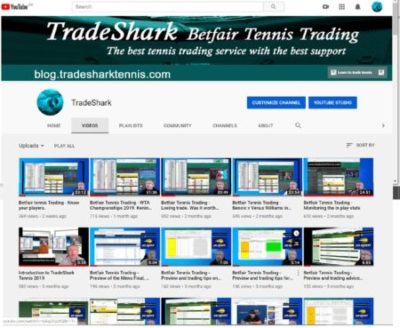 Twitter
@Trade_Shark
See notifications of new posts or videos.
Please follow me!
Follow @Trade_Shark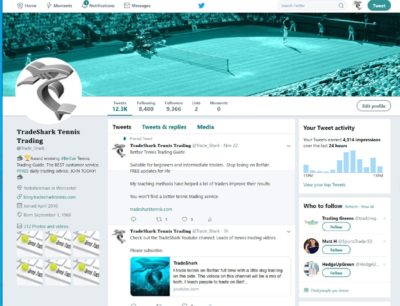 Tennis Trading Guide
https://www.tradesharktennis.com
https://www.betfairtennistrading.com