Big question! However the more you trade tennis matches the more you see that it doesn't need to be complicated. Of course people will try to tell you the opposite. You can get overwhelmed by theories and statistics and opinions from other people.
In order to make a profit we need to correctly predict the direction that the price of a player will move in. We can look for a short term price change or a longer term price move. Shorter term moves are tougher to predict than price moves that take many minutes ( or occasionally, hours!).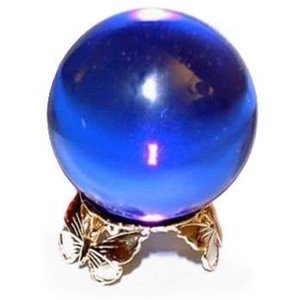 Ideally we would all have a crystal ball. Well, more accurately it would be nice if just I had a crystal ball as if everyone knew what was going to happen on court no bookie or exchange would be offering tennis markets! What we do have is records of what happened in the past.
Statistics can be very useful in tennis trading but we need to be realistic when using them. They can show us trends from past matches and markets but we have to bear in mind that as we are trading one match the results and patterns in the previous 20 matches have some relevance to our match but it is limited relevance.
For example lets look at a statistic that I saw on Twitter a couple of years ago. Our player is ranked 50 and in the last 6 months when broken in the opening set they broke back 40% of the time. Impressive. Or is it?
We actually don't know as the statement is too simplistic. If the average ranking of the player's opponents was, say, 25 then a break back percentage of 40% is impressive. However if the average ranking of the player's opponents was 200 then 40% break back doesn't sound quite so good does it?
Don't discount statistics as I could not do without them. When Tennis Insight looked like it was going to close down and was unavailable for a short time it was like my right hand had been cut off. If you're looking for tennis stats, check them out ( www.tennisinsight.com )
Oncourt also offer a very useful stats program with a one time payment.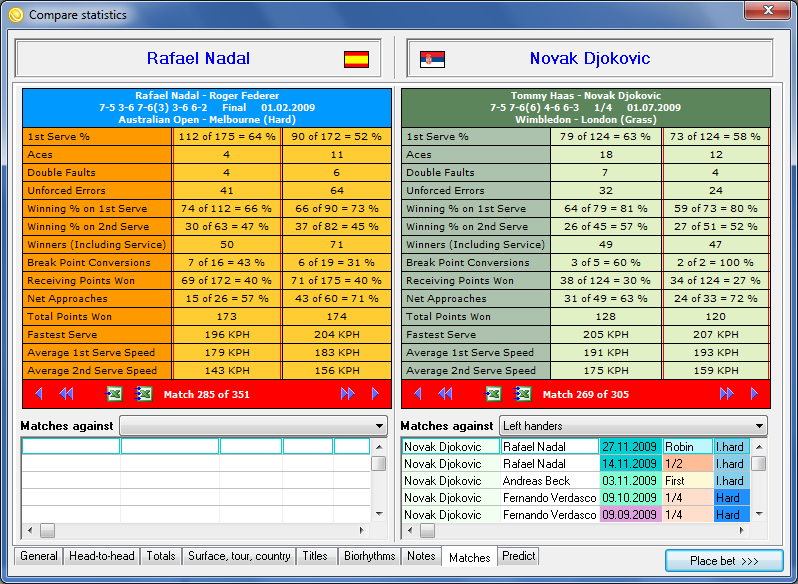 Knowledge of the players really helps. Players rarely play the same way every time they step onto the court. Knowing how they react in different circumstances can help us spot opportunities. For example Venus Williams has had a couple of great seasons and found her way back into the top 10 but managing her medical condition is hard enough anyway but when she is faced with rain delays then keeping her body match ready becomes even harder.
We can also take advantage of recurring patterns in tennis matches. A popular one is to lay WTA players who are serving for the set or the match. This works especially well in third sets as the potential swings in the price are huge if they get broken. Laying ATP player who are serving for the match is also an option. They get broken fewer times but because of that their price will be lower which lets us keep the liability lower.
Another thing traders look for are situations where the potential profit is bigger than the potential loss. An example of this is to lay a player who is 2 breaks of serve up. When a player has a double break lead they often relax a little and that can allow their opponent to get at least one of the breaks back. When a player has a double break lead the market assumes the set is pretty much over so if the leading player goes on to win by 2 breaks of serve then we won't lose many ticks. If the other player breaks serve then we can either green up or remove liability from the trade. This is a very low risk entry.
Hopefully that gives you a few ideas. If you want some more join me!