So here we are with the last singles event of the main tour. Just the Davis Cup final at the weekend left.
The world number takes on the world number 2.
Nadal v Djokovic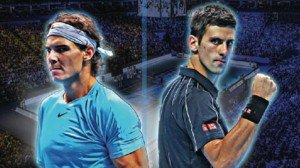 Their stats for the year are naturally impressive but would their numbers be the same if they played each other in every match? Of course not. This is why I say that for the really big matches between the very best in the world general stats are of minimal relevance. The vast majority of the numbers have been achieved against much lesser opponents than the one they face today.Stats are useful. No doubt about it but use them with your eyes open. As the old saying goes, be wary of geeks bearing gifts.
In this tournament their returns of serve have been pretty equal. From the service line Djokovic's stats look much better at 88% holds to Nadal's 83%  but remember it is a small sample. Nadal has faced 17 break points and has been broken 7 times. Djokovic has faced 16 break points and been broken 6 times.
They have faced each other 5 times this season. Nadal leads 3-2. Two matches were on clay which they shared. Their last 3 matches were all on hard courts and Nadal took 2 of them. Their most recent was in the final of Beijing in October. Djokovic won in straight sets.
But this is indoors. The courts are usually slower and certainly that has been the case in London. A slower court in some ways favours Nadal although he and Djokovic are quite similar on clay. The difference on an indoor hard court is that the bounce is so much lower. For a player who hits his forehand with so much topspin he needs a slightly higher bounce to be able to start his long stroke below the flight of the ball. Nadal has said that he prefers the faster hard courts.
Djokovic has a little more variety in the strokes he has at his disposal. He will also get more cheap points on serve and has hit 27 aces  in this tournament compared to Nadal's 11.
Djokovic starts at 1.59 on Betfair although that feels a touch too low. I will be waiting for a higher price before backing him.
It would be a surprise if we don't see 3 sets.