WTA AEGON International, 13:30 – Radwanska v Bencic
Radwanska has dropped just 1 set so far and has looked very impressive all week. That set was against Stephens in the semi final. She served for the match in the 2nd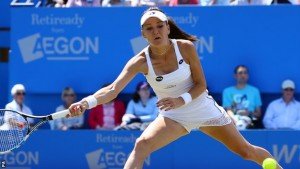 set but was broken and lost the set in a tie break.
Bencic has played well but has benefitted from 2 of her opponents retiring injured. In an interview after the semi final she also stated that she was injured herself and then seemed to realise she perhaps shouldn't have said that! The strapping is a bit of a giveaway but her comment felt like the injury was worse than people had thought.
Radwanska has struggled a little in her first couple of service games in the last 2 rounds. Bencic needs to take any early chances as she may not get many later in the match. Bencic has been in 3 finals with the last 2 being main tour finals. She has yet to win a set in a final. Radwanska has won 5 of her 7 finals in the last 3 seasons. Hopefully Bencic can take an early break so we get a better entry on Radwanska.
ATP AEGON Open, Nottingham, 14:00 – Istomin v Querrey
Querrey leads the head to heads 4-2. He has won their last two meetings. He won on a hard court in 2013 in 3 sets and also in 2012 on grass in 2 sets.
Istomin has a better grass record against common opponents in the last 12 months. Querrey leads the service stats but Istomin leads the other main categories. Tie breaks may well play a factor as both have served well. Querrey has the better tie break record on grass.
Their semis were very different. Istomin pretty much had a day off as Baghdatis was forced to retire injured after just 3 games. Querrey looked to be going out when Dolgopolov took a set and a break lead. Dolgopolov was giving nothing away on serve up to that stage but his level dropped and Querrey was able to put the pressure on. He won 7-5 in the 3rd set. He also had a long 3 set win over Simon
in the quarter finals.
Despite the strong head to head in recent meetings for Querrey he is priced too low. In the last 4 seasons Querrey has played 6 finals. He won 5. He was favourite in those matches and was slight underdog in the final he lost.
Istomin has not played a final since 2012. He has only played 2 ATP finals and lost both as underdog. Most things point to a Querrey win but I see no value at 1.53. I think we could get 1.70 to 1.75 without a break of serve. I'll take it if we do.
The sets will be tight and I will stick with Querrey to lift the trophy.