Marin Cilic is back on tour as his ban for taking a banned substance was reduced. He was originally banned for 9 months. He claimed to have taken the stimulant nikethamide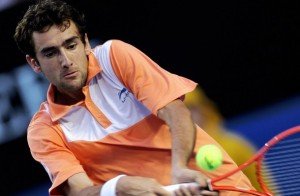 accidentally in glucose tablets. He appealed to the Court of Arbitration for Sport (CAS) and they agreed that his punishment had been too severe. His ranking dropped to 47.
Cilic takes on Sijsling in the first round in Paris. It would be a tough ask for him to win today but we don't know how intensely he has been training. There is no substitution for match conditions but you can be sure he has been hitting a lot of serves and Sijsling isn't the best returner.
Very difficult to predict but their only previous meeting was in February this year. That was also on an indoor hard court and Cilic won in 3 sets with his two sets coming in tie breaks. That would suggest a Sijsling win today.
Update: Cilic started well but Sijsling won a late break to take the set. After that it was all Cilic.
Cilic won 5-7, 6-1, 6-4.
Chardy is rightly favourite against Rosol based on his form last week alone. He beat Isner and Florian Mayer before losing to Tursunov.
Rosol had a straight forward route to the semi final last week and eventually lost to Haas in a 3rd set tie break.
Chardy's price at 1.56 is too low for me. He has second round points to defend from last year. Rosol can increase his points total with a  win today ad the stats suggest that this will be a close match.
I will look to lay Chardy if he goes a break ahead. However if he keeps his head I think he gets the win. Against Tursunov he was being quite reckless with his shots right from the start and he will wreck his chances if he employs the same tactic today.
Update: Rosol won 6-3,6-4.
If I had to pick one match to leave well alone today I think it would be Lopez v Tomic. Tomic quit last week against Youzhny and in 3 of his last 4 matches Lopez has given up after losing the first set. They start at evens and I can understand why.
Update: Lopez won 6-4, 6-7, 7-6.
Denis Istomin put up a good fight against Federer last week losing in 3 sets.  He has never played Haase before and they look fairly evenly matched.
Haase reached the final in Austria a couple of weeks ago where he lost a tight match to Tommy Haas. He then lost to Pospisil in the first round last week. He had beaten the Canadian recently but his performance was below par probably due to the long week in the previous tournament.
Istomin starts as slight favourite at 1.84 but I am tipping Haase to come through a close match. He has come through the qualifying rounds and his stats for the last 3 months are slightly stronger in all the main categories. His stats over the same period against common opponents are also better.
Haase in 2 tight sets.
Update: Haase won 7-6, 6-3.
Seppi v Kohlschreiber is another match that is hard to predict at any time of year but in the last event of their season it doesn't get any easier.
They haven't played this season but Seppi won both their matches in 2012. Kohlschreiber retired in the second set of their match at Eastbourne. Seppi leads the over all head to heads 4-3.
Over the last 3 months Seppi is stronger on return and Kohlschreiber has better numbers from the service line.
I am slightly favouring Kohlschreiber as he is perhaps the less flaky and unreliable of this pair. I can't back him under evens though so will wait for Seppi to take a lead. Seppi has a better record at this event and has second round points to defend from last year. Kohlschreiber went out in the first round.
Whoever wins it won't be a straight line graph!
Update: Kohlschreiber won 6-3, 3-6, 6-4.