Ever get the feeling that this might be as good a way as any other to predict the winner of a  tennis match. This is perhaps one of the hardest weeks of the year to know how a player will perform but that's half the fun!
Llodra was below par last week. having beaten Gasquet in straight sets he wasn't really trying against his mate Mathieu who had lot of points to defend. He was claiming an arm injury last week.
Dimitrov  has won both their previous meetings.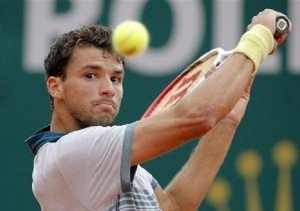 Llodra has reached the semi finals in  of the last 3 years and his drop down the rankings will speed up with a loss today. Dimitrov is ending the season well and I'm sure will be looking to make sure that continues this week.
I don't like Dimitrov's starting price of 1.64 as  Llodra is likely to keep the first set close. I will wait for a higher entry on Dimtrov. Llodra has had a few days to rest his arm so should have 1 decent match in him.
Dimitrov to win in 3 sets.
Update: Dimitrov won 6-7, 6-3, 6-3.
Nieminen looks a decent shout against Przysiezny. He has won all 3 of their previous matches and each one has  gone to a deciding set. I am looking for an entry price of at least 1.80 as Przysiezny has taken the opening set in a tie break inn 2 of the 3 matches.
That entry price will ensure I have a chance to take profit as long as Nieminen takes a set.
Update: Nieminen had set points in set 2 but blew it.
Przysiezny won 6-3, 7-6.
Gasquet's recent form hasn't been impressive at all. He hasn't played Verdasco for almost 2 years. He leads the head to heads 7-6 and I feel that 1.40 is too low.
Verdasco took advantage of a poor performance from Gulbis yesterday and looked fairly solid for most of that match. There won't be many surprise results as we expect the dogs to win their share of matches in Paris. Gasquet needs the win more than the Spaniard. He will need the home crowd behind him.
3 sets are likely and I am slightly favouring Gasquet to find a little form and get the win.
Update: Gasquet won 7-5, 6-7, 6-3.
Roger Vasselin v Dodig looks a hard one to call.  Vasselin took a set from Del Potro in their semi final last week. Dodig lost in 2 close sets to Pospisil but had his chances and had set point in the opening set tie break.
Their only previous meeting was in 2007. Dodig leads the stats against common opponents in the last 3 months although I feel he has lost some of the aggression that he has been showing over the last few months.
Vasselin is playing at home and I give him the  edge here despite the fact that he has never reached the main draw before.
Update: Dodig won 7-6, 6-4.
In Sofia the Tournament  of Champions opens up with 2 players who haven't won anything in 2013. In fact Pironkova gets a place simply because she lives nearby. Ivanovic should have no real problems with her today.
Update: Ivanovic won 6-0,6-2.
Kirilenko and Cornet have at least won a title each. Kirilenko starts as slight favourite at 1.72 even though Cornet leads the head to heads 3-0. They have played just once this year which was in Toronto and Cornet won in 2 tight sets.
Kirilenko has taken her foot off the pedal since  reaching the top 10 but on paper has the better game for this surface. Expect tight sets again and I feel Kirilenko may just grab her firs win. Value at th starting prices has to be on Cornet though and I won't be backing Kirilenko below evens.
Update: Kirilenko retired at 0-5.
Youzhny had a great win last week in Valencia. A lot of people are thinking he will lose today as its just a couple of days after that  final. He actually doesn't have a bad record following a final and I'm not sure Anderson is the man to put him out.
Youzhny has won both their previous meetings in straight sets ( both last year ). He doesn't have any points to defend though so we will have to see how he starts the match. I think he could cruise it and might fancy trying to boost his points even more.
Update: Youzhny was the stronger player from the start. He took the first set and was a break ahead in the second. He was having problems with his shoulder and this allowed Anderson to fight back. After an MTO Anderson won the 2nd  set in a tie break and Youzhny retired early in  the third.
Anderson won 4-6, 7-6, 2-1(ret)