Nadal leads their previous meetings 7-1. Their last match was in October last year. Dimitrov won in straight sets in Beijing on a hard court.
Nadal was not sharp for their last match but his off season preparation seems to have gone very well. As I said before his quarter final with Raonic he is playing like the old Nadal. The forehand is savage, backhand really reliable and his cross court passes from that wing are flowing. One of the biggest assets that he has rediscovered is his confidence.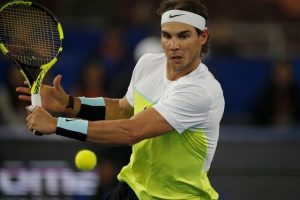 Dimitrov hasn't lost a match this year. He won the title in Brisbane. He had some problems with Istomin who had beaten Djokovic and it was only really because Istomin's body started to let him down that Dimitrov could take control after losing set 1 with a double break of serve. I had expected Goffin to give him more problems than he did but Goffin had a really poor day from the service line.
I don't like Nadal's price at the start but I have to go with him for the win. An early break for Dimitrov would be perfect for a better entry on the Spaniard. I think 4 sets and a great match.