Head to heads are 2-2. Their last match was in May this year on clay. Raonic won in straight sets.  He won their last 2 matches which were both on clay. Tsonga won on a hard court in 2013. That was a 3 sets win in Indian Wells. He also won at the London Olympics in 2012 on grass. He won 25-23 in the deciding set.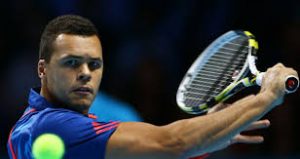 Tsonga's indoor stats are a little stronger and he has the crowd with him in this evening session match. He will need to start well though to keep the crowd vocal. French crowds are not great at lifting their players when they go behind and they tend to go quiet.Just about every other nation will cheer the underdog.
Tsonga had an up and down match with Nishikori and came back from 3-5 in the 3rd set to take it in a tbreak. Nishikori had 2 match points when he served for the match.
Raonic had a tight first match this week with in form Carreno Busta. He served well and didn't face a break point. He won that in straight sets but in his second match he came under pressure from Cuevas who took the opening set. After that it was comfortable for Raonic.
Value on Tsonga here as underdog. I don't think we see many breaks so just a few key points will decide the sets. Tsonga starts around 2.30.