Nishikori leads the head to heads 4-0.Their last meeting was in July last year. He won in 3 sets on a hard court. That was the only match that went to 3 sets.
This week Nishikori has been better on return of serve and Dimitrov has been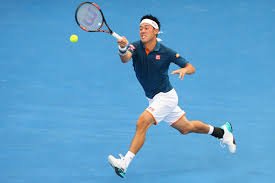 more consistent from the service line. Dimitrov only faced 1 strong returner in Thiem this week. That was the only match he dropped a set in. Nish dropped his first set of the week against Donaldson but he has been very impressive since. I thought Wawrinka would give him more of a match yesterday but was beaten in 2 sets.
I think Nishikori takes this but it will be a tight match. Value is on Dimitrov at the start.
Back Nishikori if he faces break point. He starts around 1.50.