Chardy leads the head to heads 3-2. Their last meeting was in May 2013 on the clay in Rome.  Granollers won that in 3 sets. They are 1-1 on hard courts and in their only match indoors it was Chardy who won it due to Granollers retiring after the first set.
Their stats in 2017 are quite similar. Over all stats for the last 12 months and for their last 10 matches favour Granollers. They both won 5 of their last 10 but Granollers' opponents were stronger.
Stats on indoor courts slightly favour the Spaniard though neither has played much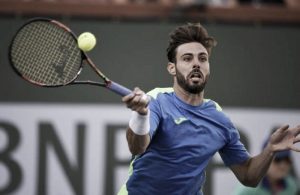 indoors in the last 12 months.
Chardy starts as market favourite but I see value on Granollers as underdog.  Chardy is currently at 1.73 ( Sunday evening) and I will lay him below 1.50. I expect Granollers to take at least a set and he has a decent chance of winning.
Remove or reduce liability if, having laid Chardy, Granollers takes a break of serve.