Benneteau 1.85,  Shapovalov  2.14
Benneteau won their only previous meeting.  That was in February this year in Marseille. He won on an indoor court in straight sets.
Overall results are a little better for Shapovalov this season. His ROI is a lot higher. Indoors they are much more even. Benneteau has better results.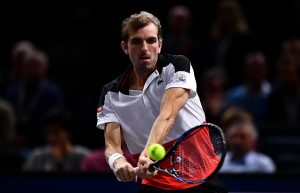 Benneteau reached the final of an indoor Challenger tournament in Orleans, France in September.It was a decent strength field.His next tournament was in Antwerp and he reached the quarter finals losing to Tsonga. Last week in Basel he was a qualifier. He got to the second round where he kept his sets with Del Potro very close.
Shapovalov had some excellent results in July and August. July saw him win a Challenger title on hard courts and reach the semi finals of another the week after. Both were in Canada.  Two weeks later in Montreal he reached the semi finals of the ATP Rogers Cup beating Del Potro and Nadal.  Later in August as a qualifier he made the fourth round at the US Open. Since then his form has not been great. He probably attracted a lot of media attention which can be very distracting for a young player.
Beneteau's form in the last 2 months has been a lot stronger. There is a good chance that we get 3 sets.
Back Benneteau above 2.00