Murray leads their previous meetings 5-2. Their last match was In Indian Wells in 2013. Del Potro won on a hard court in 3 sets. Before that they hadn't played since 2009.
Del Potro beat Djokovic in the first round without facing a single break point. He struggled a little in the next 2 rounds and lost sets to Taro Daniel and Joao Sousa. Bautista Agut pushed him close in 2 sets in the quarter final. In the semi final he made a good start against Nadal but his 2-0 lead soon disappeared and a late break gave Nadal the set. He went a break up again in set 2 but this time he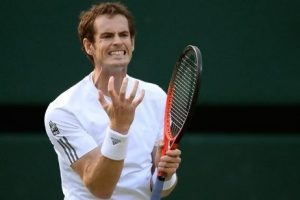 managed to hold on. The decider was tight and at 4-4 Del Potro broke the Nadal serve. Serving for the match proved too much though and he was broken to love. They went to a tiebreak.Del Potro took an early mini break and held on until he served for the match st 6-4. He was broken and it looked like he was going to let me down as Monfils had done against Nishikori. I nearly jumped out of my chair when he took the next point on the Nadal serve.My wife thought our lottery numbers had come up.
Murray was very focused for the first 2 rounds but difficult windy conditions proved almost too much for him in the 3rd round. He was 3-0 down in the 3rd set against Fognini. If it hadn't been for a bad line call which affected Fognini's concentration the result may have been different. Murray took his opening set against Johnson 6-0 and I was surprised that the match went to 3. It was settled in a tiebreak. Maybe Murray needed that kick up the arse as he outplayed Nishikori in their semi final.
Murray is trying to become the first tennis player to win Olympic Gold twice. I think He has the all round game to be able to find a way to win this. He also has the experience from London 4 years ago. I don't think he wins  in straight sets though and 4 sets seem most likely. Ideally Murray loses set 1 for a better price. I think he starts too low at 1.27 given how well Del P had done so far.