Sugita 1.96, Leo Mayer 2.02
Leo Mayer won their only previous meeting.  That was back in June 2011 on the grass in Halle, Germany. He won in 3 sets.
Mayer's results on hard courts are a little better this year but Sugita's ROI is higher. This should be close.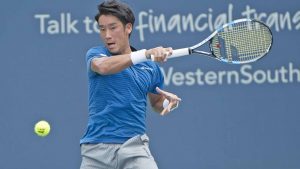 Mayer lost in the the qualifying rounds to Max Marterer in straight sets. He was given a Lucky Loser place in the min draw and went on to beat Gasquet in the main draw. He is more comfortable on clay and has been selecting clay tournaments for the last few months. He dropped down to Challenger level events some weeks and had some success which seems to have lifted his confidence.
Sugita had a very easy first round win over a wild card player. This season he has won 67% of his matches and has had strong performances on all surfaces.
I favour Sugita but this will be a long match. Back him above 2.20
Update: Sugita was broken in his first service game but broke back and took the set in a tie break. Good for our trade. He also broke serve at the start of the second set but Mayer broke back and took the next 3 sets.
Mayer won 6-7, 6-4, 6-3, 6-4