First round
Auger-Aliassime (1.55) v Pospisil (2.8)
Due to start around 3 pm
Aliassime has won all 3 of their previous matches. The last time they met was in Canada in August 2019. He won on a hard court in a third set tie break. They have never played indoors. Pospisil took a set in both their 2019 matches.
Overall win percentages are better for Pospisil in the last 12 months. Long term indoor results are better for Pospisil and they are fairly even in the last year.
In February Pospisil reached the quarter finals in Marseille and the final of Montpellier, both indoors. He reached the fourth round at the US Open in August. This week he has come through the qualifying rounds. He needed 3 sets in both qualifying matches and started both as strong favourite.
Aliassime reached the indoor finals of Rotterdam and Marseille in February. This month he got to the final in Cologne 1 and semi finals in Cologne 2.
Lay Aliassime around 1.40 and remove or reduce liability at 1.80. Back Aliassime around 1.95 to 2.10.
I have had a handful of questions in the last few months asking about the advice that I give on this blog and also on Twitter. The most common question is asking if the tips are intended to be backed and left to run.
The short answer is "NO". The slightly longer answer is "HELL NO". The long answer is that I very rarely leave a back bet to run until the end of the match. I can think of just 2 occasions in the last year. The clue is in the title of the site. The tips are for TRADING.
The aim of the match picks on here and in the Daily Trading Tips emails is to give you a value entry point. After that you need to manage your position. If you have little tennis trading experience here are some simple ways to manage the trade:
Once the price has reached the target price and you have entered your first trade you are waiting for a significant price move in your favour. This can be a break of serve or your player wins the set. Then you should remove some or all of your liability (risk).
If your player does not perform well and gets broken after you have entered the trade then you can exit with a loss.
Update: Aliassime had a poor first service game and was broken. Pospisil was serving extremely well and hardly losing any points in the early games. in Pospisil's third service game Aliassime started to read his serve better and broke back. Aliassime's price had gone as high as 2.60. When he broke back he dropped back to around 1.50.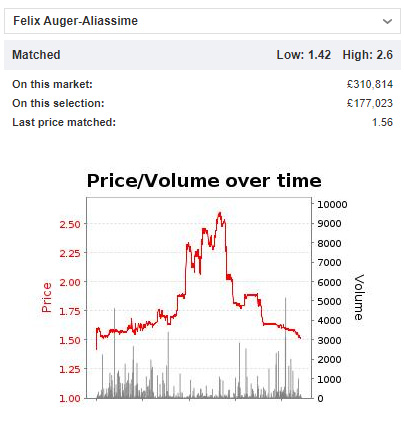 Aliassime looked the better player for most of the set but wasn't able to break the Pospisil serve. Aliassime was broken when serving at 5-6.
The second serve was also very tight and Aliassime was again broken when serving at 5-6.
Pospisil won 7-5, 7-5.