Murray leads their head to heads 10-7. Their last match was at this year's French Open. He won on clay in 4 sets.  Wawrinka won at last years ATP finals in straight sets.
Wawrinka fooled me for his last match. He had looked like he had a physical issue in his 1st match yet had more fight in him for his meeting with Cilic. Cilic wasn't great in that match to be fair yet still took it to 2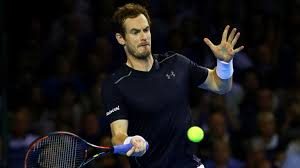 tbreaks.
Murray seems to be a little below par this week which is not surprising when you look at what he has had to do to get the number 1 ranking. He is supremely fit but when his concentration wanders a little it is due to fatigue.
I am looking forward to this match. I think both will have periods when they are making soft errors but I would rate Murray's mental toughness above that of Wawrinka and that could be the difference today. Murray at his best just does everything a little better than Stan.
Back Murray if he gets broken. He starts around 1.30.