The Australian Open kicks off at midnight. Last year gave two unexpected champions in Wawrinka and Li Na. Are we likely to get more surprises this year?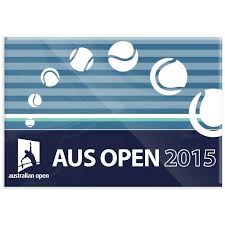 We have already seen more retirements than usual. Some of those will be due to players wanting to ensure they are fit for this tournament.
Mens Draw
Section 1:
Djokovic's section and it has to be said it isn't exactly the toughest. Raonic is in there and they look the most likely to reach the quarter finals.
Djokovic may well face Verdasco in the third round and Isner in the 4th. I really don't see anyone troubling Djokovic before the quarter finals.
Raonic's half of the section has Donald Young whose form has been a little better lately and Hewitt who has dropped dramatically down the rankings due to losing in the first round in Brisbane where he was defending champion.
Lopez, Pouille and Benneteau could also meet Raonic but I will be surprised if any of them can beat Raonic.
Predicted quarter final: Djokovic v Raonic
Section 2:
Defending champ Wawrinka's section and it looks more competitive. Can anyone stop him before the quarter finals? He looks safe until the 4th round. Up to that point Andujar and Nieminen are unlikely to beat him over 5 sets. His 4th round opponent could be one of Querrey, Dolgopolov or Fognini. Querrey will need to serve at his very best and who knows which versions of Dolgopolov and Fognini will turn up? If I had to pick one of them I'd go for Fognini.
The other half of this section has Nishikori, Ferrer and Simon. I'm not sure many people will be expecting Simon to go too deep in the tournament but if they play their normal standard Nishikori and Ferrer are my picks to meet in the 4th round.
I'd take Nishikori for the quarters.
Predicted quarter final: Wawrinka v Nishikori
Section 3:
Nadal's section although he may not stick around too long. i don't think he will make the second week. He is set to meet Rosol in the third round and that could be as far as he goes. Anderson and Gasquet will probably fight it out for a place in the 4th round. My pick is Gasquet and I would also go with him to beat either Rosol or Nadal.
Berdych is in the other half of the section. He shouldn't have much trouble with Melzer in round 2 but If Troicki has enough energy after his title win I think the Serb will push Berdych all the way.
Fighting for the other 4th round spot are Kohlschreiber, Tomic and Gulbis. Tomic has shown he is in decent form this year but the other two have shown us very little. Having said that I have Kohlschreiber and Gulbis meeting in the third round and Gulbis meeting Berdych in the 4th.
Predicted quarter final: Berdych v Gasquet
Section 4:
This section has Federer and Murray.
Federer doesn't have anyone in his half of the section who ought to give him too much trouble over 5 sets. Kyrgios, Karlovic and Seppi would need Fed to have a seriously off day.
Murray's form is a bit of a mystery. His biggest threat would seem to be Dimitrov who he is likely to meet in the 4th round. Goffin is the only notable player in this half but he hasn't made the best start to the season.
I have Murray going through to the quarters as he has done well in Melbourne in the past.
Predicted quarter final: Murray v Federer
Women's Draw
The only certain thing is that Li Na won't be defending her title.
Section 1:
Serena's section. When trying to work out how far she will progress through the tournament you have to assume she will play well. She CAN beat anyone and she lifts herself for the slams but can slip up at any time.Will she be allowed a coffee if she feels tired?
Svitolina and either Muguruza or Jankovic will probably stand in her way. I'm not sure Svitolina is up to the task but Muguruza could give her a scare especially if Serena isn't at her best.
Wozniacki leads the other half of this section. She had a wrist injury last week but I suspect her withdrawal was to ensure she was ready for this tournament. She could face Azarenka in the second round.
The winner of that one will most likely meet Zahlavova Strycova. On her days BZS could go through to the 4th round but I am giving Woz that one.
Cibulkova and Cornet should make it through a couple of rounds with the winner of their match playing Wozniacki in the 4th round.
Predicted quarter final: S Williams v Wozniacki
Section 2:
Quite an open section that has Kvitova and Radwanska on top billing.
Kvitova doesn't have an easy route to the quarters. Barthel shouldn't give her too many problems in round 2 but Keys in the third round and potentially Stosur in the 4th won't be straight forward. Stosur reaching the 4th round is of course by no means certain. She did make the 3rd round last year and seems keen with her new coach to sort out her poor home form. Vandeweghe in the second round could be a banana skin for Stosur and Petkovic will be competitive in the third.
Radwanska looks safe enough for the first 2 rounds and Lepchenko or Rogers are unlikely to cause an upset in the third. The other half of this section could be interesting with Pennetta and Venus Williams set to meet in the third round. I'd give Venus the edge in that one with Radwanska knocking her out for a place in the quarter final.
Predicted quarter final: Kvitova v Radwanska
Section 3:
Ivanovic's and Halep's section.
Ivanovic could meet Goerges in the third round. The German has made a decent start to the season and could push Ivanovic to 3 sets. The winner is likely to play one of Makarova, Vinci or Pliskova. Pliskova could fall to Riske in the second round but I expect her to make it through. Vinci has made a much better start to 2015 than she did in 2014 and her match with Makarova could go either way.
Halep has already won a tournament. She could meet Gajdosova in round 2 and Lisicki in the third. Errani has had injury problems from pre season but I think she can still reach the third round with Beck being the likely victim. Pavlyuchenkova has done nothing of note this year and she will take on Errani for the right to play Halep in the 4th round.
Predicted quarter final: Ivanovic v Halep
Section 4:
Sharapova and Bouchard are the star names in this section.
Bouchard could have problems with Kuznetsova. Kerber has reached the 4th round for the last 2 seasons. She has started 2015 in reasonable form although was disappointing in her semi final with Pliskova. Vesnina really shouldn't beat Kerber in the second round but it isn't out of the question. Carla could also burst her bubble in round 3 but I am going with Kerber to play Bouchard in the 4th.
Sharapova's first 3 matches should be straight forward enough but she will probably meet Safarova in the 4th round. Safarova will be ok with Puig and Konjuh. This half of the section is unlikely to throw up many surprises.
Predicted quarter final: Bouchard v Sharapova