Guest Post By Cecil Harris.
Cecil's work has been featured in The New York Times, New York Daily News, New York Post, Newsday and USA Today.

The French Open has been moved from its usual May-June spot on the tennis calendar to a September-October event. But that Grand Slam event will take place only if a coronavirus pandemic that continues to claim lives and provoke fear around the world has been deemed contained by medical experts.
The Olympic Games in Tokyo, which would have featured tennis's best players battling on hardcourts, has been postponed—most likely until July 2021.
And there are no guarantees that Wimbledon or the U.S. Open will be played this summer.
All WTA and ATP events have been cancelled through June 7. A return to action on June 8 may be unrealistic with the global curve of COVID-19 cases showing no signs of flattening.
So, what are tennis players to do with this much unscheduled down time—and no clear indication as to when the down time will end?
Well, that may depend largely on where players stand in tennis's pecking order.
The superstars can use at-home gyms and backyard courts to keep their bodies and games sharp. Players a notch below superstardom can still afford personal training sessions to maintain their physical and mental fitness.
Some Players' Careers Could End
But for the vast majority of players, those ranked outside the top 100, for whom coaches, trainers and physiotherapists are difficult to afford, anxiety may be a constant companion. For how many struggling pros will the dream of tennis stardom die? How many will decide to return to college—or attend for the first time—with an eye toward pursuing a more stable career path?
The WTA partners with the Women's Tennis Benefits Association and Indiana University East to give players the opportunity to earn bachelor's degrees online while competing on the tour. A similar partnership allows WTA players to pursue master's degrees online from the University of Florida College of Journalism and Communications.
Sloane Stephens received her bachelor's degree in communication studies from Indiana University East three months after winning the 2017 U.S. Open.
IU East is also where Venus Williams, a seven-time major champion, earned her degree in business administration in 2015.
Williams's net worth from tennis earnings, endorsements and business ventures is a reported $95 million. An unexpected pause in the tennis schedule has caused her no financial hardship. But it could well hasten the end of her legendary career.
Williams, who turns 40 on June 17, has not won a singles title since 2016 in Kaohsiung, Taiwan. She lost the only three matches she has played in 2020. It is likely that Venus, far removed from her tennis prime, has played this year to prepare for another run at Olympic gold with her sister Serena.
Venus is, after all, the most decorated Olympic tennis player ever. In addition to her singles gold medal in 2000, Venus struck doubles gold with Serena in 2000, 2008, 2012 and 2016. It would have been an intriguing storyline in Tokyo: Could the Williams sisters win their fifth gold medal, and third in a row, as a team?
Now, with the Olympics postponed, would Venus and Serena even try to compete in Tokyo next year at ages 41 and 40, respectively? While Serena is still in the top ten, Venus, ranked No. 67 in the world, bears little resemblance to the player who reached the title match at the Australian Open, Wimbledon and WTA Finals Singapore in 2017.
Would Venus even be chosen by the USTA for one of the four Olympic berths for women in 2021 given her current struggles on the WTA Tour?
A normal 2020 schedule would have given Venus a chance to regain her form and sharpen her game for the Olympics. The coronavirus pandemic has prevented that, creating uncertainty for Venus and her peers.
Injured Players Aren't Missing Anything
Grand Slam champions Roger Federer and Bianca Andreescu expected to miss tournaments and sacrifice ranking points while recovering from injuries. But the coronavirus pandemic has put every player's career on hold.
Andreescu, the 2018 U.S. Open winner from Canada, has not played since last October because of lingering pain in her left knee. Her return date is, like that of tennis itself, uncertain.
Federer, the 20-time major champion, underwent right knee surgery in February. The Swiss maestro hopes to return in time for Wimbledon in late June.
However, Wimbledon may be cancelled. It's not easy to move a grass-court tournament from summer to autumn. The playing surface could be adversely affected by chillier temperatures, and autumn winds could hinder every player not assigned to compete under closed roofs on Centre Court and No. 1 Court.
For those reasons, tennis's premier event—cancelled from 1915–18 because of World War I and again from 1940–45 for World War II—could fall victim to the coronavirus in 2020. The All-England Club, which runs Wimbledon, is reportedly opposed to staging the event without spectators.
However, other tournaments could be played without fans in the stands. While it's hardly ideal for tennis players, they've done it before—in junior tournaments and on their way up the ladder as pros.
In the Mexican Open finals on Feb. 28, Heather Watson of England defeated Canadian teen Leylah Fernandez in a spirited three-set match in a nearly empty stadium. Later, when Rafael Nadal routed Taylor Fritz to win the men's title, TV cameras showed a packed house. Yet the women produced more entertaining tennis—before a much smaller crowd.
Until the rate of coronavirus cases markedly declines, tennis in empty stadiums could become the norm in these decidedly abnormal times.
Players Are Connecting Online
Meanwhile, many players are taking to social media to provide levity and engage with fans and peers alike. Check out the ATP's #TennisAtHome challenge, as well as the posts of individual players.
Genie Bouchard, a 2014 Wimbledon finalist, posted a photo of herself on Twitter looking frustrated below the caption, "when u realize ur down to ur last roll of TP." Prior to that post, the Canadian tweeted to her 1.7 million followers that she'd prefer to spend her time homebound "with a new boyfriend" and received proposals from potential suitors.
Since medical experts want everyone to practice physical distancing, Bouchard would be wise to put off meeting someone new. But if that special someone could make sure she has enough toilet paper to endure a work stoppage in a tennis year unlike any other, surely she would appreciate it.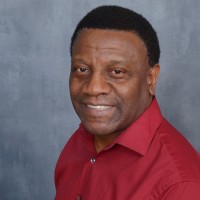 Cecil Harris
Author of Different Strokes: Serena, Venus, and the Unfinished Black Tennis Revolution (University of Nebraska Press).