"Rafael Nadal drops huge hint he'll skip US Open". I must admit I thought I had already read this news as he was committed to Madrid and the French Open. The French Open seems to mean a little more to him and it wouldn't be realistic to defend 2 grand slam titles with just a week between them.
Novak Djokovic tipped to 'take advantage' of Rafael Nadal decision by former world number one.
Danielle Collins has been kicked out of an Exhibition event in America.
Article from Essentiallysports.com
Yesterday was a pretty busy one. There were some matches in the Czech republic that looked promising. I previewed them in a blog post. Liquidity wasn't great. I missed the first one as I had a car load of stuff to take to the household waste site. I knew that when they opened again after being shut for most of the pandemic that there were long queues to get in. I was hoping that those desperate to get rid of their rubbish would have done so in the last few weeks.
As I approached the site there were a lot of signs warning about possible queues. As I got nearer there was a guy with a stop/start sign who looked bored to death. Great! No queue. As I reached the bend just before the site there were yellow diversion signs directing you into the leisure centre car park which is on the opposite side of the road. I could now see the entrance to the site. There 2 guys who were also looking bored. There were a lot of cones around the entrance and when I got there I saw that the cones blocked the entrance. The exit was clear and for a split second I thought maybe they were using some odd one way system and you had to enter through the exit. Pretty stupid thought to have. It disappeared when I remembered that there are spikes on the approach to the exit that would wreck your tyres if you went over them the wrong way.
I drove past the site and went round the small roundabout to come back past the site. This time there was a guy holding up a stop sign. There were a few cars being allowed in from the opposite direction. It's on a bend and I couldn't see where the cars were coming from. I just assumed they were coming down the road as I had done a couple of minutes earlier. I stuck a right indicator on thinking that I would just push my way in. The guy with the stop sign changed it to a go sign. He seemed to roll his eyes as he saw my indicator. As I got to where he had been standing I could then see that the cars that were being allowed in were coming from the leisure centre car park. The penny dropped. There WAS a queue. At least i hadn't tried to push my way through!
I changed the right indicator to a left indicator and followed the diversion signs. They were using part of the leisure centre car park to get the queue off the main road.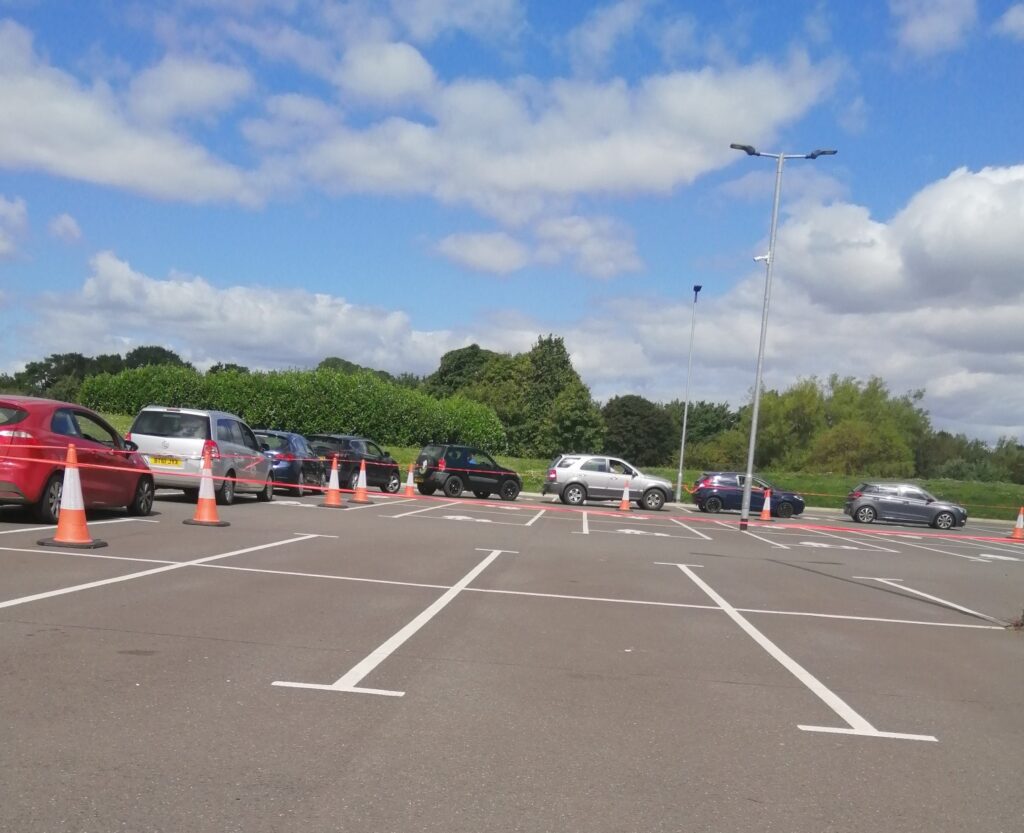 Have people produced so much more rubbish during lock down that we now need to queue for 40 minutes to get into the tip? Someone on Twitter suggested that going there just before they close is a better idea as there are no queues. I'll try that next time.
As you know I have spent a lot of time during Covid trying different things with the website. One thing that I have been testing is the header at the top. Before the virus came along the site was converting like crazy. Sales during the lockdown have been a lot better than I had hoped for but obviously there has not been the same volume of visitors. The conversion rate dropped a bit. I have gone back to the header image that I was using just before everything shut down. I personally think that the white back ground with an image of my face and trading screen on a monitor looked better. Obviously my face didn't add anything to the over all look. I was pretty small. I liked the clean look of the layout. The old one looked a bit like all the other sites but it seems to grab people's attention in those first few vital seconds when someone lands on the page. I guess my face isn't my fortune. That will come as no surprise to anyone.
There were no matches worth trading today so I finished the set 2 thought process flowchart. Tradeshark members will find that on the members pages. Feedback as always is welcomed.
LESS than 2 weeks until the tennis is back.
Stay safe.