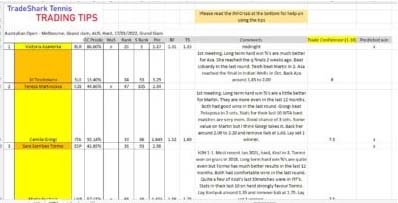 Each day I research every ATP and WTA main draw match. I write notes on each match that include information, stats and trading tips. That information goes into a spreadsheet and sits on my desktop for that day's trading session. I refer to the spreadsheet before I start trading any tennis match.

Click on the link below to get a sample of today's matches and trading tips.
Please note that I try to be as concise as possible but there is a lot of information included. Read the info tab on the spreadsheet for help in using the tips.
Update:
There were no breaks in the first 7 games, although they both faced bp's. When Blinkova served at 3-3, she went 0-40 behind and I laid Putintseva. Blinkova saved 4 bp's in that game and held. Having missed 4 bp's, there was a chance that Putintseva would struggle on her next service game. When Putintseva went 15-40 behind, I hedged. Blinkova completed the break and successfully served for the set.
In set 2, Putintseva served first. As she had faced bp's in her last 3 service games and had been broken in her last service game, I waited for her to have her serve before laying Blinkova.
Putintseva was broken. Blinkova was now a set and a break ahead, which is an excellent value entry. I laid Blinkova using 25% of my profit from set 1.
Blinkova held and then broke again. I had profit on Blinkova and a bigger green on Putintseva so I stayed with that position. Putintseva got one of the breaks back in the next game and 4 games later, she broke again to get back to 4-4. I hedged evenly.
Blinkova broke in the next game and eventually served out the set after saving 5 bp's.
Blinkova won 6-3, 6-4.
Davis was broken in the first game and her price went above 2.20. I backed her. Three games later, she broke back and I removed liability leaving aa free bet on Davis. Wang was broken when serving at 3-4 and Davis successfully served for the set, saving 1 bp.
In set 2, Wang served first and i waited for her to have her service game before I laid Davis. Wang held to 30 and I laid Davis with 20% of my profit.
Davis broke to lead 3-2. If I was not already in the market, I would have laid her at this point at 1.08. As I already had a position, I stayed with the green on Davis and bigger green on Wang.
Wang had a medical timeout at 3-4. She had treatment on her right arm/shoulder. The MTO seemed to help and she had a couple of BP's in the next game but Davis was too strong. She held serve and broke Wang again to take the match.
Davis won 6-3, 6-3.