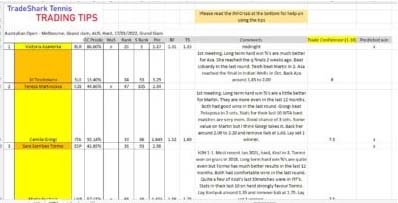 Each day I research every ATP and WTA main draw match. I write notes on each match that include information, stats and trading tips. That information goes into a spreadsheet and sits on my desktop for that day's trading session. I refer to the spreadsheet before I start trading any tennis match.

Click on the link below to get a sample of today's matches and trading tips.
Please note that I try to be as concise as possible but there is a lot of information included. Read the info tab on the spreadsheet for help in using the tips.