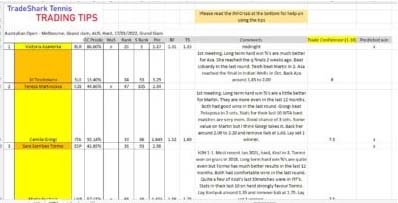 Each day I research every ATP and WTA main draw match. I write notes on each match that include information, stats and trading tips. That information goes into a spreadsheet and sits on my desktop for that day's trading session. I refer to the spreadsheet before I start trading any tennis match.
Click on the link below to get a sample of today's matches and trading tips.
Please note that I try to be as concise as possible but there is a lot of information included. Read the info tab on the spreadsheet for help in using the tips.
Update:
Samsonova started well and broke serve to lead 2-1. As I was expecting straight sets, I was not in a rush to lay her. However when she went a double break ahead at 4-1, I laid her. The price was unlikely to go much lower in the set.
Samsonova was broken in the next game and I removed my liability. I had a free bet on Samsonova. She served for the set at 5-4 but was broken. Anisimova then held and broke again to take the set.
I kept the free bet on Samsonova and laid a little more on Anisimova when she took a 2-0 lead in the second set.
Samsonova broke in the next game and I thought about leaving a free bet on Samsonova but as she was not serving as well as expected, I hedged.
That was a good move as she was broken again in the next game and Anisimova went on to take the set and the match.
Anisimova won 7-5, 6-3.
Van Uytvanck prefers indoor courts but she played really well in the first set. She broke Linette in the first game. I backed Linette. Linette immediately broke back. i removed half my liability. When she held for a 2-1 lead, I removed the rest of my liability.
The next 3 games were holds of serve. Linette served at 3-3 and was broken to 15. I added to my position on Linette.
The next 2 games were holds, although Linette had to save a set point when serving at 3-5. When Van Uytvanck served for the set at 5-4, she went 15-40 behind and i removed my liability to leave a free bet on Linette. Unfortunately, Van Uytvanck recover to hold and to take the set.
In set 2, I added to my position on Linette with a lay on Van Uytvanck. Linette held and then broke serve to lead 2-0. I removed my liability. Linette broke again to lead 5-1 and I hedged. She successfully served for the set.
I did not trade the third set.
Van Uytvanck broke first in set 3 and she led 3-1. Linette took the next 3 games and was a break ahead at 4-3. She could not keep hold of the lead and Van Uytvanck broke back, held and then broke again.
Van Uytvanck won 6-4, 1-6, 6-4.