Djokovic v Federer (14:00)
They have played 3 times this season. Federer leads the head to heads 2-1 which is perhaps surprising. Two of them were  on hard courts which are Djokovic's best surface. Those were shared and Federer took the most recent meeting on the clay in Monte Carlo.
Realistically Wimbledon is Federer's best chance to add to his Grand Slam tally. He has had a pretty easy draw compared to some of the other top players. Wawrinka in the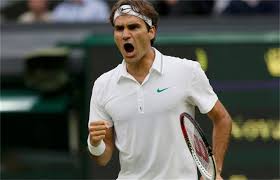 quarter final was playing his third match in 3 days and used up most of his energy to take the opening set. In the semi final many were giving Raonic a chance to push him very close but Federer played the perfect match. A break in the very first Raonic service game set the tone of the match. He knew one break was enough as his own serve has been superb in this tournament. In sets 2 and 3 it was almost as if he had decided which game he was going to break him in. Each time he broke at 4-4 and served out the set.
Djokovic was put under immense pressure by Cilic in the quarter finals but when he was 2-1 down in sets he found another gear or two and controlled the rest of the match.
Dimitrov had been playing well enough on grass to make people think, myself included, that he could give Djokovic a real scare in their semi final. A brain fart service game in the first set handed it to Djokovic and then another early in set 2 looked to have done the same. It seemed  like Dimitrov wasn't going to be able to handle the occasion. Djokovic was 3-0 up and had a break point for 4-0 but Dimitrov held serve. He then won the next 5 games and leveled the match. How often does Djokovic lose 5 in a row? Sets 3 and 4 went Djokovic's way in tie breaks.
In their 35 meetings Federer and Djokovic have only met once on grass. That was on the Wimbledon Centre Court in the 2012 semi final. Fed won in 4 sets.
When the top players meet each other their stats against other players don't mean too much and even less in semi finals and finals. In their 2014 matches Djokovic has had a real problem converting break points winning just 21% of them. Fed's serve has looked particularly good so far. Djokovic also served exceptionally well in the first set against Dimitrov but couldn't maintain that level throughout the match.
Djokovic has lost his last 3 grand slam finals which will be playing on his mind. He mentions it in almost every interview I have seen in the last week.
This should be a great match and is tough to call but I am favouring Federer. He has won the first set in their last 2 matches but I am hoping to get a lay on Djokovic below 1.50 .