Kvitova v Bouchard (14:00)
What an achievement for Bouchard to reach her first grand slam final. She has only played in 6 grand slams but this season she has reached the semi final in each major. Can she win her first grand slam final? It was only this season that she won her first WTA title but she has a very positive attitude. Her coach encourages her to not just play one point at a time but in her head to concentrate only on the next SHOT. In the middle of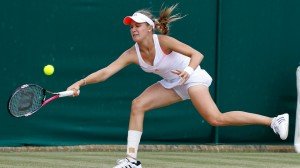 matches she does manage to do that most of the time. In her last 3 matches she has been broken just once in each one and saved 11 break points. However it is at the end of matches where it becomes understandably much harder to not think about getting over the finish line. She has struggled to close out the matches against Halep and Kerber despite having a big lead each time.
Kvitova has been in this situation before. She beat Sharapova in 2011's final in straight sets. Today she is a slight market favourite which does change things a little but having won this title before has to be an advantage.
Kvitova's leftie serve out to the Bouchard backhand could be a significant factor today. She is also playing with controlled power rather than going for broke too soon in rallies.
 6 of the last 7 finals have been settled in 2 sets. Kvitova has an excellent record as slight favourite when she takes the first set. In her last 47 matches when starting between 1.50 and 2.00 and having won the first set she won the match 42 times. Bouchard, when priced between 2.00 and 3.00 and having lost the first set has won just 3 of her last 10 and just 5 of her last 19. If she won the first set she took the match in 6 of her last 9.
So the opening set is key although Kvitova has a slightly better record if losing that first set.
Bouchard is fearless until it comes to getting over the line. She got away with it against Kerber and Halep. Kerber was mentally tired after her title win and failing to take 4 break
points in one game in the first set finished her off. Halep turned her ankle in the first set but still took the set to a tie break. Unless Bouchard can get her self into a position of serving for the match with a double break lead she will find it tough to close it out.
Kvitova's experience may well be the deciding factor.
I will put part stake on Kvitova from the start. Bouchard has won the junior title so finals
day isn't completely new to her and I can see her making a good start. I will top up on Kvitova if Bouchard takes an early break lead.