13:00 – Djokovic v Gasquet
Djokovic leads the head to heads  12-1. Gasquet's sole win was in 2007. They never played on grass.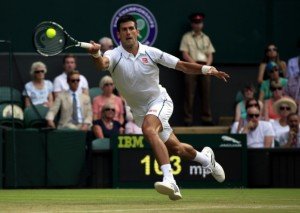 Fantastic win for Gasquet over Wawrinka in the quarter final. I had tipped him to win so was a little frustrated when he was broken serving for the match at 5-3 in the 5th set. He has become known for choking but he held himself together against a guy who has won 2 grand slams. Gasquet is one of the best shot makers in the world…… on the practise court. I was lucky enough to see him practising a few years ago and I became a fan from that day. It was more like a magic show than a training session. He has never really lived up to his potential on the match courts though and has under performed when he has found himself in good positions. So many times he has fallen at the 4th round stage of slams. As I said above he has gained himself a reputation as a choker and I had fallen out of love with his game. That has changed in this tournament. He seems to have a new found confidence and is playing as aggressively as I have ever seen from him.  That last match was effectively his final. Those 5 sets will take its toll on his mind and body. I think he will try to enjoy the semi but am wondering where he will find enough chances to even take a set.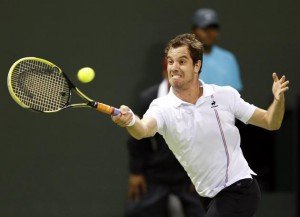 Djokovic was back to his best against Cilic having struggled to get past Anderson in 5 sets.  He had been in control of his matches up to the Anderson match. He came onto court with his mind elsewhere. Sure, Anderson has a huge serve that can be very effective when he's in the groove but if Djokovic comes into the match focused then no way does that match go the distance.
How on Earth does Gasquet wins this? Its really  just the manner of Djokovic's win that is in question.  Gasquet could convince himself that he had a strong chance of beating Stan as grass isn't the Swiss player's best surface. Today he faces the world number 1 who also happens to be the defending Wimbledon champion.
Straight sets looks most likely. I would love Gasquet to keep it competitive. His only chance is if Djokovic isn't tuned in mentally at the start. How likely is it that he won't be fully prepared for the semi final of arguably the biggest tournament of the year? Anyone can have a bad day. Djokovic just seems to have fewer of them than anyone else.
Back Djokovic if Gasquet takes set 1. If not, enjoy the show.
15:00 – Murray v Federer
Federer leads their previous meetings 12-11. He has won their last 3. They have played just twice on grass. Both matches were in 2012. Federer won at Wimbledon in 4 sets and Murray won at the Olympics in straight sets.
I have spent a lot of time trawling through stats and press conference comments and YouTube videos for this one. I avoid other people's opinions when researching a match as I can confuse myself enough without having someone else's thoughts in my head. It's really tough to come up with a strong case for either player winning. Just about the only thing that is certain is that one of them will!
Purely in terms of value it has to be Federer as underdog who is the value pick. He has faced just 3 break points in the whole tournament. Only Simon in the quarter final was able to break him. Unfortunately Simon was then broken trying to take their second set to a tie break.  He would have liked his chances in a tie break as Federer's only lost set was in a breaker to Sam Groth.
Federer's UE count has been very low with the exception of the Simon match. Simon has had a superb tournament and I was hopeful of him taking a set. Both their previous slam meetings had gone to 5 sets but Federer is a level above most players on grass. Simon was always trying to catch up in that match and Federer wasn't about to allow him to get his hopes up for long. Simon's spirit was finally broken in the third set.
Murray comes into this tournament playing the best tennis of his career in my opinion. Now fully recovered from the back surgery he has performed well on all surfaces, even clay.
He has dropped just a couple of sets. One to Seppi when he tuned out in their third set and one to Karlovic, also in the third set.  His UE count has been low in all his matches except the Seppi one. He didn't seem to be feeling 100% in that third set.  He has been broken 7 times. Three times in his opening match and three times against Seppi. Plus Karlovic's tie break.
I don't see either player winning in 3 sets. Both men love playing at Wimbledon. Federer has always been loved by the crowd there. Murray won them over after a rocky few years. It will be interesting to see who the crowd favour. This match will be decided by the smallest of margins and even though Murray has made all the right noises when asked about this I can't help feeling that if his home crowd give the same, or more, support to Federer it could get to Murray. Just a little.
Both are holding serve well so backing both on serve is an option. Laying the 1st set winner is also a good option.
Obviously I want Murray to win and it will be an exciting match to watch. The stats plus my gut feeling says Federer takes it though. However if it goes to a 5th set my money's on the Scot.