14:00 – S Williams v Muguruza
Serena leads their previous meetings 2-1. She won in 3 sets at this year's Australian Open. Muguruza beat her in Paris at the French Open last season. She won in 2 sets.  Their first match was also at the Australian Open. This time it was in 2013 and Serena won easily in straight sets.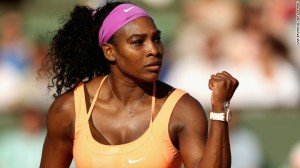 With her grass form before this tournament no one expected Muguruza to get anywhere near this final.  She struggled in her early rounds.  Lucic Baroni took her to 3 sets, her serve giving Muguruza some trouble for short periods of the match. Kerber had 19 break points but Muguruza saved some of the most important ones with high risk winners. That match also went to 3 sets.
Wozniacki and Bacsinszky were both below their best but Muguruza kept the pressure on. She can only beat the player in front of her.
Radwanska doesn't seem able to complete a tournament playing good tennis. She was over powered by Muguruza in the opening set of their semi final. There was no power in Radwanska's strokes. In the second set once she went a break behind Radwanska started to put more weight on her shots and that is when Muguruza started to look less confident. Radwanska took the set and looked the better player going into the deciding set.  She broke in the first game but Muguruza fought back with 2 breaks. She had a huge wobble when it came to closing out the match but her serve held strong in the end.
Muguruza has has problems in her matches when her opponent started playing with more aggression and power. Who do we know that plays that way?
Serena is often vulnerable in the early rounds of slams. Last year it was Cornet who beat her in the third round. This year's third round opponent was Britain's Heather Watson. No one really gave Heather much chance yet she was within 2 points of matching Cornet's win when she served for the match in the third set.
The Watson scare was a reality check and sister Venus was despatched convincingly. Azarenka was seen as Serena's biggest serious threat and when she took their opening set in the quarter final an upset looked on the cards. It wasn't to be as Serena eased through those extra gears she has. She was in control for the rest of the match.
Sharapova wasn't really expected to have much of a say in how their semi final went. That proved to be the case as a double break in the first set and a single break in the second set was enough to see Serena in another Wimbledon final.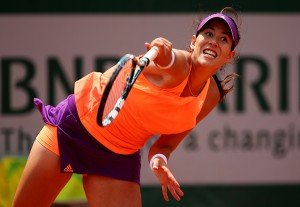 Bouchard last year and Lisicki in the 2013 final were expected to be competitive based on their performances leading up to their respective finals. Bouchard won 3 games and Lisicki's first experience of a Wimbledon final changed her usual smile to tears.  Muguruza is unquestionably a huge talent and she will feature in many big matches in the future but this final has come very early in her career. She looks like she will be another player who lifts her game for the slams. Serena has experience of slam finals in bucketfulls. Only Venus (2008) and Sharapova (2004) have beaten her in Wimbledon finals. Muguruza has the potential to be as good as both those players. She has the shots.She has the serve. What she doesn't have is the experience. You can't GIVE someone experience. The whole things about experience is that there are no short cuts. You have to put the time in to get it.
Serena will be putting a lot of pressure on herself to get her 5th Wimbledon title. Unless she has a terrible match I only see one winner today. When Muguruza is under pressure she plays her high risk tennis. The added pressure of the occasion, the opponent, Centre Court and her own dreams are more than likely going to take those line-hugging shots an inch or 3 wide of their target.
Serena wins this in straight sets.