It has been an interesting season so far. A lot of the top players have had injuries and various other problems. Djokovic has not been at his best although has been improving.
Murray has only just returned to the tour and doesn't look ready to be a contender. Federer looked a little tired recently but has had a week to get ready for the tournament.  He most certainly IS a contender.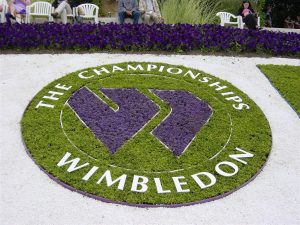 Nadal has been in great form this year. Raonic seems to have found form and fitness at the right time. Berdych has a great game for grass but has struggled in 2018. Cilic will rightly fancy his chances.
Anyway lets have a look at the draw. As usual I have looked at the 4 sections of the draw to try to predict the quarter finals.
.
Section One
Federer's section and I would think he is pretty pleased with it. His biggest threat might come from Kevin Anderson. Anderson reached the fourth round last season but has not taken a set from Federer in their previous 4 meetings.
Federer is unlikely to be troubled by Leo Mayer in the third round or Coric in the fourth round.
Anderson's half of the section is a lot more open with Querrey and Gasquet likely to meet in the third round and Muller is Anderson's most likely opponent in the third round.
Predicted quarter final: Federer v Anderson
.
Section Two
This section is WIDE open. Cilic, Raonic, Pouille, Isner, Tsitsipas and Dimitrov are all players who have the ability to get to the quarter finals.
We also have Steve Johnson who was disappointing this week but if he gets his serve going he is no pushover on a fast court. Norrie could surprise a few people in the first week of the tournament.
Cilic and Raonic don't seem to have any real problem opponents until they meet in the third round.
In the other half of the section if Isner can get past Johnson in the second round and Norrie in the third round he will meet either Tsitsipas or Dimitrov in the fourth round. If Tsitsipas is not sharp against Donaldson in the second round he could have some real problems.
Predicted quarter final: Cilic v Isner
.
Section Three
This section should throw up some entertaining matches. Thiem will have to work hard if he is going to reach the fourth round. He will probably meet the winner of the Benneteau v Tiafoe second round match. I would expect him to beat either player but he won't have an easy match.
Djokovic is in the same half of this section. His first test will be against Edmund who beat Murray this week. Djokovic has been looking a little more like his old self and gets stronger with each passing week.
The bottom half of the section is headed by Alex Zverev. His route to the quarter final is far from easy.  Dzumhur should give him a good match and has played well in Turkey this week.
Kyrgios and Nishikori will have to be on their game to beat Haase and Tomic respectively in the second round and I would give Kyrgios the edge if they meet in the third round.
Predicted quarter final: Djokovic v Kyrgios
.
Section Four
Murray is in this section. He is not seeded for the tournament. He beat a rusty Wawrinka this week but did not really compete with Edmund. I don't know that he trusts his body after surgery and best of five set matches could be a problem for him. He faces in form Chardy in the second round. If he gets through that one then Del Potro is likely to be his third round opponent. 
Gilles Simon and Goffin are the other main contenders from this half of the section.
The bottom half of this section is where we find Nadal. Like Federer he will also be very happy with his draw. He has some decent grass players like Kukushkin, Mischa Zverev and De Minaur around him but none of them can trouble Nadal unless he has a real off day.
Vesely and Fognini are likely to meet in the third round and I give Fognini the edge there.
Predicted quarter final: Del Potro v Nadal
.
From Sunday and then every evening during the tournament I will be live on YouTube from around 9 pm. We will have a look at the day's matches and try to find some value for the following day's matches. Everyone welcome.
Please subscribe to the channel to get notifications 🙂