This will be their first meeting.
Stoller had a great win in the last round over Vesnina. She won in 2 tie breaks. The first set was full of breaks of serve. She faced 19 break points but was only broken 4 times. She hit 13 aces.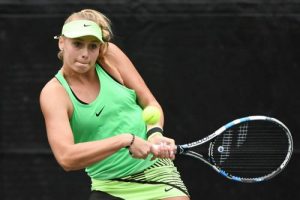 Ostapenko struggled a little in her 3 sets win over Sakkari. She was also only broken 4 times but hit 5 double faults. She had a more straight forward win in the 1st round over Bogdan.
If Stoller can serve as well today as she did against Vesnina she has a chance to take at least a set.
Lay Ostapenko below 1.25 and remove liability if Stoller takes a break of serve. Three sets seem likely.